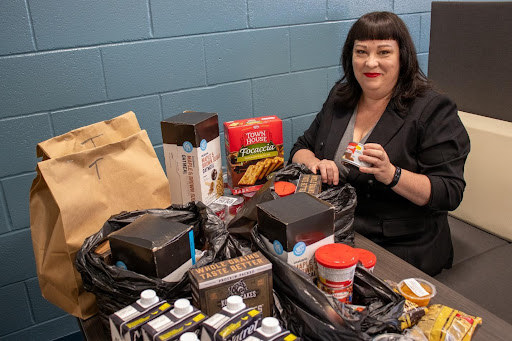 Academic success often depends on a variety of non-academic circumstances, many of which may be outside students' control. A medical emergency, sudden loss of income, childcare needs, and food insecurity are just a few of the barriers ECTC students have faced. ECTC depends on community support to help students overcome these challenges, especially through donations to The Lunch Box, ECTC's student food pantry.
Established in 2018, the Lunch Box stepped up to serve even more students through the pandemic.
"We started off serving students on campus to get them through their classes. However, the pandemic revealed the need was greater, and we've been providing them groceries, gift cards and hygiene supplies," said Associate Professor Charles Coulston, noting the tremendous impact the pantry has had on students. "The look on their faces when you're able to hand them a bag of groceries is unmistakable."
Coulston and Associate Professor Deena Lilygren work together to operate The Lunch Box and said food insecurity directly affects students' ability to succeed in the classroom and beyond.
"The goal of the Lunchbox is simply to feed students who are experiencing food insecurity," Lilygren said, adding that even small donations can make a big difference.