Metallica Scholars
The band Metallica, universally acclaimed for rocking heavy metal music and spectacular performances, is also deeply committed to improving the lives of hard-working Americans. ECTC is thrilled have been awarded a $100,000 grant from the Metallica Scholars Initiative, funded by Metallica's All Within My Hands Foundation (AWMH). Sixty ECTC students will have the opportunity to become Metallica Scholars and "Ride the Lightning" in the college's new "Ride the Lightning Learning Lab" for advanced manufacturing careers. The grant provides funding for the Learning Lab, as well as $50,000 in scholarships for eligible students, who will rock the name "Metallica Scholars." Ten $2500 scholarships and 50 $500 scholarships have been awarded.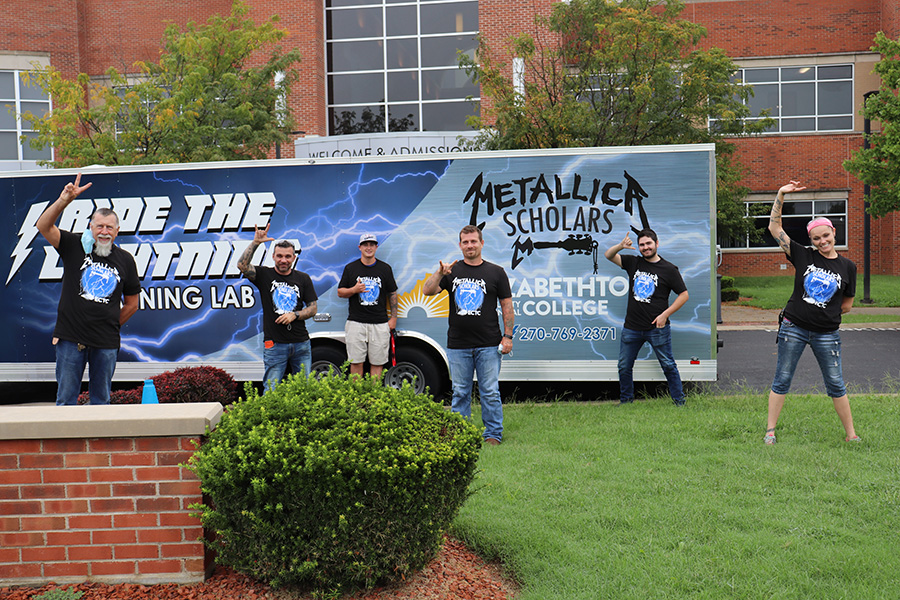 ECTC's "Ride the Lightning Learning Lab," named for one of the band's popular albums, will provide opportunities for Metallica Scholars as well as other current and prospective ECTC students to continue their education through mobile, on-site skills training and testing. Advanced manufacturing programs include:
Air Conditioning Technology - industrial
Electrical Technology - industrial
Engineering and Electronics Technology - Robotics and Automation, Instrumentation tracks
Industrial Maintenance Technology
Computerized Manufacturing and Machining
Computer Aided Drafting and Design
Welding Technology
The unit will offer flexible delivery of courses that align with students' and employers' needs and reinforce the college's commitment to meeting students where they are.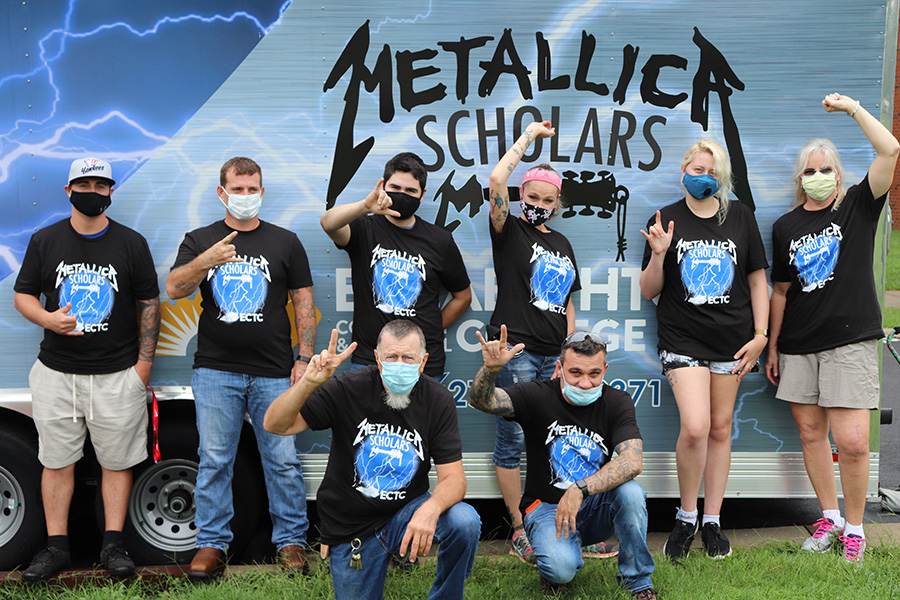 Created in 2019, the Metallica Scholars Initiative is a partnership between the band's All Within My Hands foundation (AWMH) and the American Association of Community Colleges (AACC), a Washington, D.C.-based organization representing the country's more than 1000 community colleges.
This major workforce education initiative provides direct support to community colleges to enhance their career and technical education programs. These programs provide skills and services to students who are looking to enter a traditional trade or other applied learning program. ECTC is one of 15 partner community colleges from across the country and the first in Kentucky to receive a grant from Metallica.
A goal of the Metallica Scholars Initiative is to break down barriers to education so students can learn skills that lead to productive careers. The "Ride the Lightning Learning Lab" will bring training in skilled careers to students in advanced manufacturing fields, making it more affordable and convenient than ever to develop their skills.
For example, a virtual reality welder will allow students to learn and practice a variety of realistic welds in the Learning Lab, before they pick up a real welding torch. "The virtual reality welder provides instant feedback to the student, who can learn how to correct and improve their technique," said Jared Spalding, Welding Program Coordinator. "This technology and the Learning Lab will open doors for students who otherwise may not have had this opportunity."