ECTC graduates celebrate at 57th commencement
Published on May 9, 2022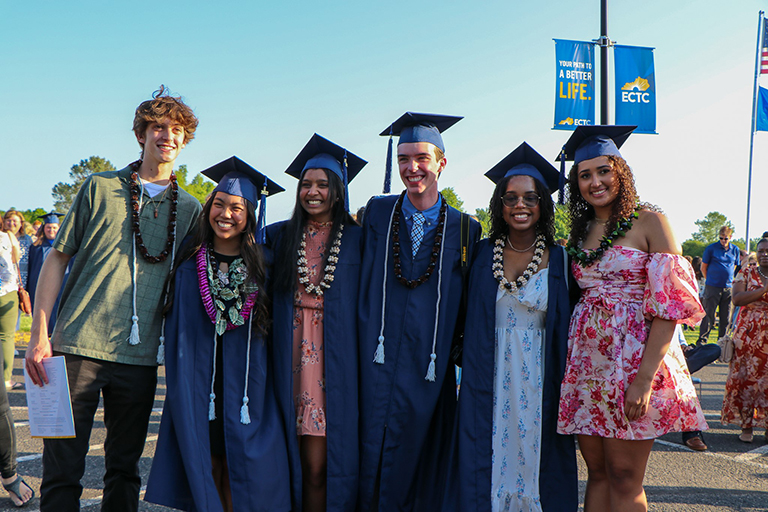 Elizabethtown Community and Technical College (ECTC) completed its 57th commencement ceremony May 9 with an outdoor graduation on the Elizabethtown campus. More than 200 graduates participated in the walk-thru ceremony and reception.
"We are so proud that each of these graduates chose ECTC to get the education and training they need to pursue their dreams," said ECTC President Dr. Juston Pate. "While we're celebrating the culmination of their time at ECTC, we're also celebrating a beginning. This is the beginning of their next chapters, as they start meaningful careers or continue their educational journeys at four-year universities."
The ceremony honored students who completed their academic programs in Summer 2021, Fall 2021 and Spring 2022. During those terms, 709 students earned 910 degrees and 75 diplomas, including associate in applied science degrees in high-demand career fields like healthcare, business and IT, advanced manufacturing and more. Graduates also included those who earned an Associate in Arts and Associate in Science and are prepared to transfer to four-year colleges and universities to complete bachelor's degrees.
Additionally, ECTC awarded more than 2,100 certificates for Summer 2020, Fall 2020 and Spring 2021.
"On behalf of everyone at ECTC, congratulations to our graduates," Pate said. "You've accomplished something incredible for yourself, your families and your communities. We can't wait to see what you do next."