CODE
Creating Opportunities for Diversity in Education (CODE)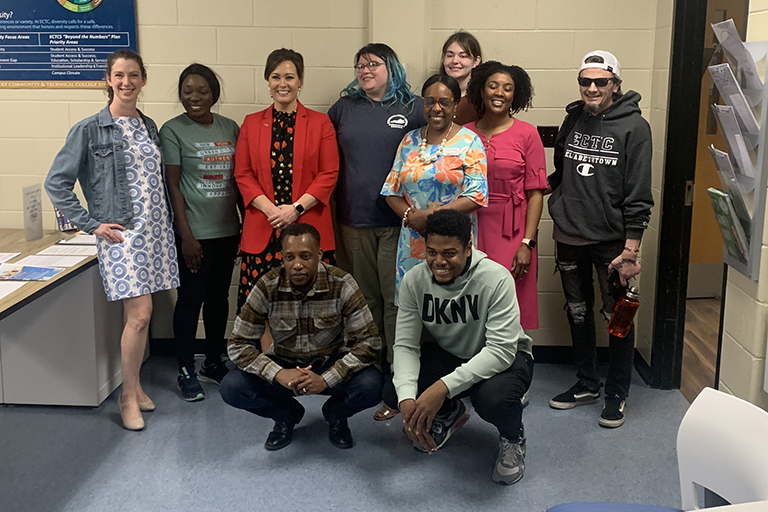 Designed to support underrepresented minority and low-income students, CODE provides resources for every aspect of succeeding as a college student.
If you're feeling a little hesitant about college, CODE is here to help. CODE taps into services across our campuses and the community to make sure new college students — and their families — get a great start at ECTC. Plus, CODE is a great way to connect with other students. You'll be a part of cohort that supports each other throughout your time at ECTC.
Sign up for CODE Registration.
Academic and Career Excellence (ACE)
Real support to accomplish your education and career goals.
The Academic and Career Excellence program, or ACE, gives students personalized assistance with all aspects of college. ACE addresses various academic and social challenges through intrusive academic advising and coaching, peer connection, career connection, exposure to cultural activities, and meeting basic needs. The intensive case management and personalized wraparound services that ACE provides will assist participants in overcoming academic and non-academic barriers, increasing academic preparation, building career and transfer pathways, and persistence.
Find out how an ACE Success Coach can help you with everything from career exploration, to classroom success, to overcoming non-academic challenges.
Let's get started and ACE it!
Contact Tracy Woods today.
twoods0127@kctcs.edu | 270-706-8593
Elizabethtown Campus, ATB, Room 105
Upcoming Events
Throughout the year, CODE provides a variety of workshops and events and always offers one-on-one support.
| Date | Event | Time | Location |
| --- | --- | --- | --- |
| Apr 3rd | Speaker: Jerry Bransford | 11:30am | RPC 212 |
| Apr 5th | Workshop: Pizza and Thesis | 11:15am | ATB 105 |
| Apr 11th | Seminar: State of Fairness | 11:30am | RPC 212 |
| Apr 27th | Campus wide event: Multi-Cultural Fair | 10:00am-3:00pm | JSO lawn |
| May 3rd | Food trucks, campus wide: Finals week grub and grind | 11:00am-1:00pm | JSO parking lot |
Travel
Learn more!
To learn more about CODE or upcoming events, contact Jerisia Lamons at jerisia.lamons@kctcs.edu or 270-706-8841.