Events
The Office of Cultural Diversity works across the Campus and Community to plan programming and events that celebrate and honor the diversity of Campus and our Community. Please check this page often for events.
Upcoming Community Events
Beacon of Light Awards
ECTC will proudly host the 2024 Beacon of Light Awards on Feb. 23 to recognize African American heroes in the college's service region for their success, exemplary service to their professions and communities, and commitment to servant leadership and equity. We shine a light on these incredible members of our community not only to honor their accomplishments and service, but also to pave the way for future generations.
Nominations for the 2024 Beacon of Light Awards must be submitted by Jan. 16. Past nominees who have not been awarded may be nominated again. Those who were nominated in 2023 but not awarded will be reconsidered. The following criteria will be considered:
Demonstrated high level of commitment to diversity, equity and inclusion in their local community
Serving as an inspiration and role model for their local community
Displayed high level of excellence in their field of expertise
Community involvement and volunteerism
Past awards, achievements and accolades
Do you know a local Beacon of Light that you would like to nominate? If so, please complete the form. Please be sure you complete all the required responses for consideration.
Elizabethtown Community and Technical College's Beacons of Light was created in 2017 as a way to celebrate and recognize local African American heroes that are committed to enhancing equity in our service regions, and beyond. ECTC will be honoring these heroes – the heroes who have shaped our local communities with leadership and compassion, those individuals who serve the local communities with an undying passion, and the leaders who have fought through adversity to change their local communities. They have paved the path for the young population and set the tone for rich local tradition. Their work deserves praise. These heroes are the perfect Beacons for our future.
2023 Beacon of Light Honorees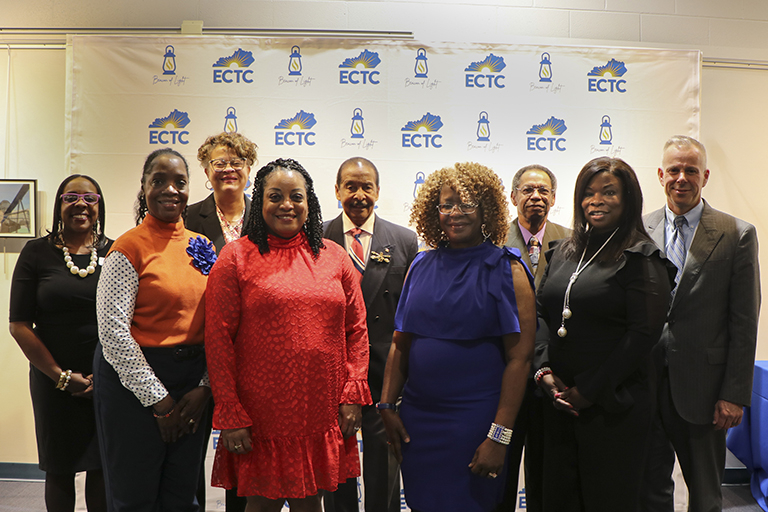 Front row left to right: Stephanie Harrison, Minister Linda Dixon, Kim Iman. Back row from left to right: Jerisia Lamons, Terry Owens, Brenda Hickman, Jerry Bransford, Johnny Scott, and Abound Credit Union CEO Ray Springsteen (event sponsor). Not pictured: Duane Nunnally and Reverend Richard Lockette.
Past Beacons of Light Awardees
Previous Events at ECTC
Multi-Cultural Fair: The Amazing Human Race
We had terrific performances from Yapa!, Aseye African Drumming Ensemble, and River Lotus Lion Dance. We also had tables representing various cultures: Korean, Difrenelty abled individuals, the Sustainability Committee, Japan, and CODE. Such a fun afternoon! Check our photos of the Multi-Cultural Fair event on April 27, 2023.
Lt. Governor Jacqueline Coleman
Lt. Governor Jacqueline Coleman visited with the CODE and ACE students during a recent Pizza and Thesis workshop in the Multi-Cultural Center.
Jerry Bransford - Beacon of Light Nominee
The Center for Cultural Diversity presented Jerry Bransford and his Family History with Mammoth Cave on April 3, 2023 at ECTC.
Bransford's family guided tours at Mammoth Cave for 100 years before it was named America's 26th national park in 1941. He shared his family story of slavery, mapping Mammoth Cave and all the things his family went through to park visitors, offering a glimpse into history from his family's perspective. By sharing his family's story, Bransford could teach lessons from the past to help shape a better future.
The Journey to Freedom
Participants had the opportunity to walk along the 1st floor of the ATB to explore historical facts regarding African American history. Reception with cake, punch, and food was be available after the final tour group. Check our photos of the Journey to Freedom event on February 28, 2023.
ECTC's 3rd Annual African American Read-In
The National African American Read-In (AARI) was a groundbreaking effort to encourage communities to read together, centering African American books and authors. It was established in 1990 by the Black Caucus of the National Council of Teachers of English to make literacy a significant part of Black History Month. This initiative has reached more than 6 million participants around the world. Students, faculty, and staff were welcome to join us and read pieces from African American authors. Check our photos of the African American Read-In event on February 16, 2023.