University Center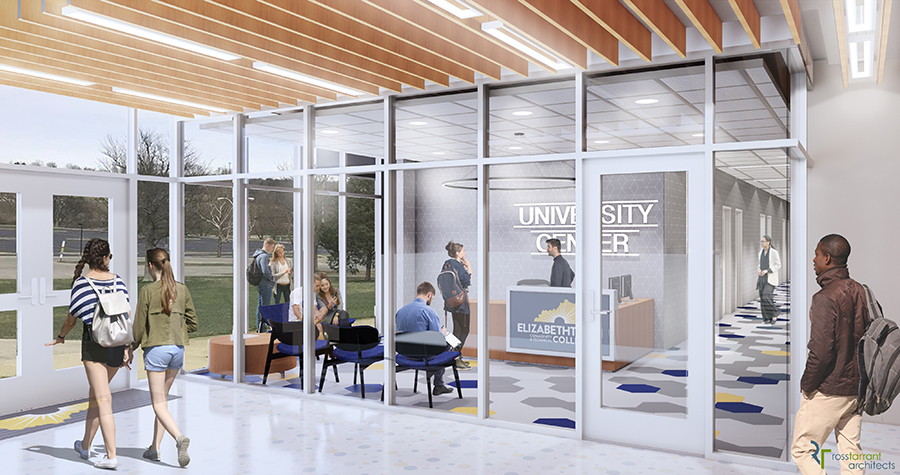 The University Center at Elizabethtown Community and Technical College is a consortium of postsecondary partners that provide high-demand bachelor's and master's degree programs to the Central Kentucky region. The partnership engages universities and colleges to deliver advanced degrees based on student, employer, and community demand. These programs complement ECTC degree options, allowing students to complete their associate degree through ECTC and transfer to a University Center partner institution to complete their bachelor's degree. While still in the planning stages, the University Center is projected to begin offering baccalaureate programs in 2021.
The University Center is a cost-effective means to increase access to advanced degree programs. The University Center is not a new university, but instead a partnership which encourages collaboration and sharing resources to benefit the students and community.
University Center partners and Programs
We are proud announce new partnerships that will provide a local pathway to bachelor's degrees that align with in-demand career fields. ECTC University Center partner institutions and programs include:
Eastern Kentucky University is offering its nationally recognized bachelor's degree in criminal justice.
Lindsey Wilson College will offer a bachelor's degree in business administration with concentrations in accounting and human resource management and a bachelor's degree in human services/counseling.
Spalding University's offering will allow registered nurses to earn a Bachelor of Science in nursing.
All programs offered at the Elizabethtown campus of longtime ECTC partner Western Kentucky University now will be offered as part of the University Center.
For more information about degree programs offered through the University Center, please contact Darrin Powell at 270-706-8406 or Darrin.powell@kctcs.edu
Frequently Asked Questions
How will the University Center benefit students and employers? How will classes be offered? What services will the University Center provide? Learn more about the innovative University Center collaboration coming to Elizabethtown Community and Technical College by visiting our Frequently Asked Questions page.
BETTER Lives for a Better Community