University Center Frequently Asked Questions
Learn more about the innovative University Center collaboration coming to Elizabethtown Community and Technical College.
In addition to providing a local presence for multiple institutions and baccalaureate programs that are not currently accessible to area residents, the University Center will provide efficient use of financial and human resources through shared classrooms, meeting space, and offices provided at the Elizabethtown campus of ECTC. Partner institutions will offer degree programs that align with workforce demand and the additional support of Transfer Advising will help ensure a seamless transition for students from associate to bachelor's programs, which saves them time and money toward their degrees.
The collaboration of postsecondary institutions will reduce costs for students who pursue high-demand baccalaureate programming. Depending on their living arrangements and program of study, students can save an average of $40,000-$65,000 through the duration of their four year education by completing bachelor's degrees close to home. The development of transfer pathways can reduce the time it takes for students to complete degrees and helps prevent students from spending money on unnecessary courses. The University Center fundraising campaign includes enhancements to ECTC's campus to improve the services offered to students. A renovation to the Student Center will address students' most frequently identified suggestions for improvement: the need for permanent food service on campus and better facilities for them to gather with their peers. The Student Center will house the Student Government Association office, a new cafeteria, space for collaboration and student engagement, and additional dining options. We look forward to hosting student events in this space to enhance opportunities for a positive college experience.
ECTC's University Center is a college-wide concept that is bigger than any one building. The University Center offices will be located in the Student Center, and will include headquarters for partner institutions, classroom/event space, and a computer lab. Classrooms in the Regional Postsecondary Center will receive technology upgrades needed to effectively deliver University Center programs. These enhancements will allow students across ECTC's service area to benefit from University Center programs regardless of their home campus.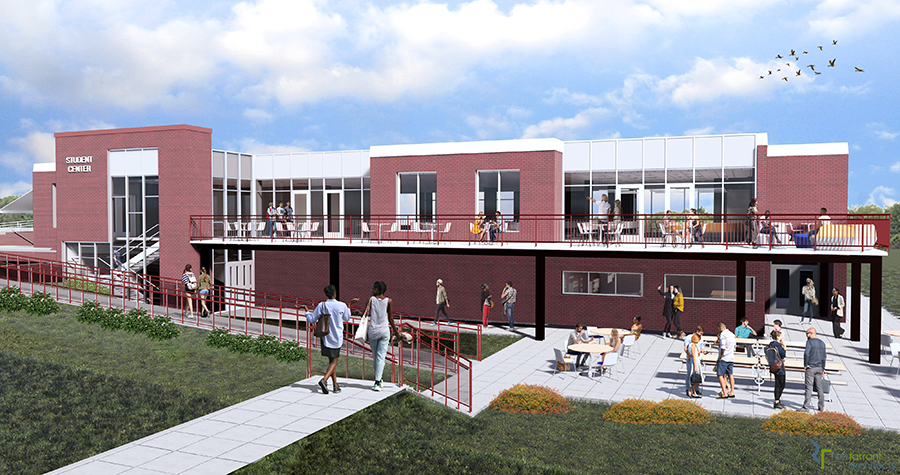 As the Central Kentucky region experiences economic growth, local employers are increasingly challenged to find and retain talent to expand their businesses. The University Center will provide a cost-effective option for students seeking Baccalaureate degrees and allow ECTC to connect companies with a pipeline of prospective employees. The rigor of completing bachelor's and master's degrees combined with the alignment to in-demand career fields and soft skill training provided by the University Center will create a seamless connection between our business community and the well-rounded employees they are desperately seeking. The degree pathways offered will support a variety of business functions that are needed for employers to grow, such as management, technology, human resources, and organizational leadership. The addition of degrees in areas such as education, engineering, agriculture, and nursing will provide our region with a larger source of potential employees who are more likely to stay in the community upon graduation.
Course delivery will vary by institution and degree program. Classes will be offered through traditional in-person instruction, interactive television, web-enhanced, and online delivery modes. The University Center will offer additional support services to all enrolled students to enhance their learning experience. In order to be a University Center partner institution, at least half of the program being offered must be provided through in-person instruction on ECTC's campus.
In addition to expanding educational opportunities for our community, the University Center will enhance ECTC's ability to provide regional events in support of career pathway development, such as career planning conferences for area high school and college students. We look forward to providing:
Assistance with admissions, scholarships, and financial aid applications
Career and Transfer Advising
Workshops on soft skills, career pathways, and test strategies such as PRAXIS or GRE preparation
Students pay tuition at the rate set by their respective college or university. Some institutions offer transfer scholarships to reduce the cost of degrees achieved through the University Center.
No, the institutions in which students are enrolled confer the degrees. The University Center is the convener of the resources to make these educational programs and support services more accessible.
Our University Center webpage will be updated as these agreements are confirmed. Elizabethtown Community and Technical College's President's Leadership Team reviews economic outlook data and gathers input from local employers to identify programs that are needed and initiates partnership conversations with potential University Center members.