ECTC Announces Foundation Launch
Published on May 12, 2022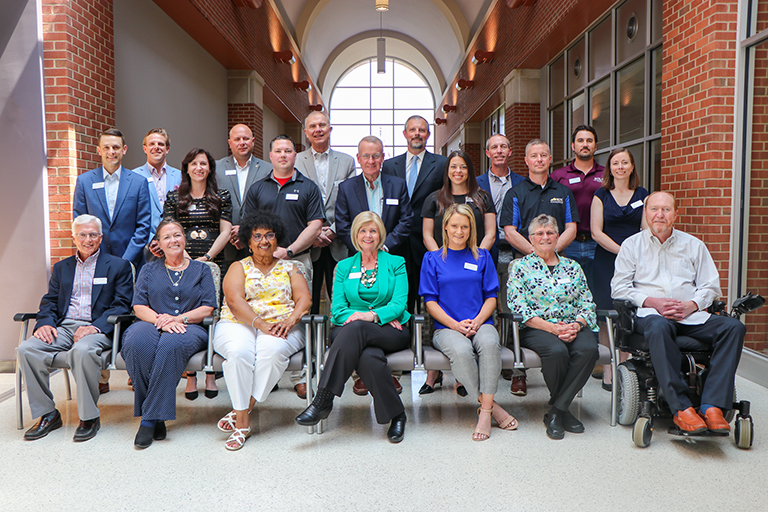 Elizabethtown Community and Technical College (ECTC) on May 12 announced the launch of the new ECTC Foundation. The organization, led by key stakeholders throughout the college's 10-county service area, will focus on educating and engaging the community in collaborations that will help ECTC add greater value to the region. Board members of the ECTC Foundation include:
· Mike Burress, Lincoln Trail Area Development District
· Dr. John DuPlessis, DuPlessis Orthodontics
· Brandon Fogle, South Central Bank
· Marilyn Ford, WesBanco
· Cynthia Griffin, Burnett & Griffin, PLLC
· Linda Howard, Retired, ECTC
· Selena Hudson, Mutual of Omaha Mortgage
· Dustin Humphrey, Skeeters, Bennett, Wilson, and Humphrey
· Dennis Johnson, Baptist Health Hardin
· Keith Johnson, Robbins Enterprises
· Brian Kerr, Kerr Workplace Solutions
· Ben LaRue, Owen LaRue Financial Group
· Greg Lee, Nolin RECC
· Brooklyn Leep, Marion County Industrial Foundation
· Wayne Meriwether, Retired, Owensboro Health Twin Lakes Medical Center
· Timmy Morris, Southeast DME
· Carrie Pride, The Kentucky Standard
· Brian Robinson, Nucor
· Jennifer Scarbrough, Swope Family of Dealerships
· Kevin Smith, Beam Suntory
· Jason Waters, ARGI
· Garry Watkins, Wabuck Development Company/Clayton Watkins Construction Co.
· Allison Willoughby, Brandenburg Telecom
· Hanna Yun, Korean American Association of Kentuckiana
· Dr. John Yun, Heartland ENT and Allergy
· Dr. Juston Pate, ECTC
· Megan Stith, ECTC
"The ECTC Foundation will be solely focused on furthering the college's mission," said Brandon Fogle, ECTC Foundation board chair and Northern Region President, South Central Bank. "As the college has grown, so have the opportunities for community engagement. The Foundation will help the college develop relationships and resources that allow us to make an even greater impact in the lives of ECTC students for many years to come."
Donations to the Foundation were announced today, including the establishment of a $4,000 Kruger Packaging Scholarship fund at ECTC; a $10,000 gift to the ECTC University Center by the City of Elizabethtown; and a $100,000 pledge by Nucor Brandenburg. Nucor's investment will be used to meet the greatest needs of the college, and includes $25,000 to support tuition for transitioning soldiers in ECTC's Advanced Manufacturing Career Skills Program.
Plans for the Foundation began four years ago, and will build on the legacy of partners like North Central Education Foundation and Central Kentucky Community Foundation that have paved the way for ECTC to become what it is today, said ECTC Foundation Executive Director Megan Stith.
"It's time for us as a community to help the college reach its full potential," she said. "As one of only two community colleges in Kentucky without a college foundation, and with approximately 40 percent of ECTC's budget coming from state appropriations, community support is critical to the college's ability to launch new programs and expand existing initiatives."
The Foundation board of directors will work to position ECTC as the first choice for education and workforce training and a driver of regional economic development. With the recent investments of Ford and SK Innovation, Nucor and Kruger Packaging, that goal is more important than ever.
"These businesses have shown they trust ECTC by investing in our region and our students," said ECTC President and CEO Dr. Juston Pate. "We've already proven our ability to create a pipeline of skilled workers ready to take on any challenges. Now it's time to up our game."
ECTC's history lends itself to this type of community-based advancement. The college was formed when a group of generous leaders saw the potential in what a community college could do for the entire region. They came together with a common purpose – to create opportunities that have a lasting impact. Their visionary ideas and forward-thinking enterprise have a direct correlation to the success the college has seen so far, Pate said.
The ECTC Foundation will build on that success. They will accomplish this by prioritizing students, the workforce and innovation as a whole. Through community support, the Foundation will work to meet students where they are by removing barriers to college access and support; connecting employers with graduates who are workforce-ready; and developing resources and partnerships that allow ECTC to implement innovative solutions.
"These are all elements that have already been in place at the college," Pate said. "We will only strive to improve and expand the current climate through help from the region. The difference between a good college and a great one is the support of alumni, donors, employers and community members, and we're excited to grow these relationships with the support of the ECTC Foundation."