EIFTC scholarship recipient announced
Published on Jun 16, 2022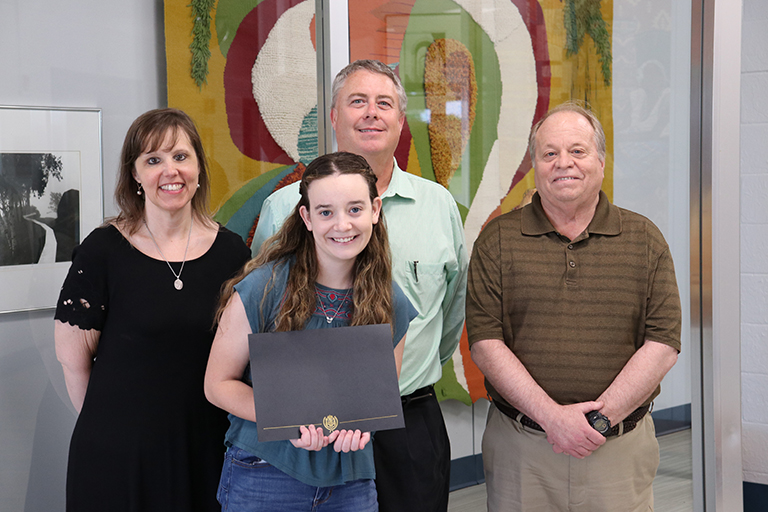 Michaela Reynolds, 2022 graduate of Central Hardin High School, has been awarded the EIFTC scholarship to attend ECTC. Pictured from left are Barb Jones, City of Elizabethtown Human Resources Manager; Michaela Reynolds; Darrin Powell, ECTC Interim Chief Academic Officer; and Kent Fuller, Assistant General Manager at Flex Films and EIFTC chair
Michaela Reynolds, a 2022 graduate of Central Hardin High School, has been awarded the Elizabethtown/Hardin County Industrial Foundation Training Consortium (EIFTC) scholarship to attend Elizabethtown Community and Technical College (ECTC). EIFTC is a collaboration of the Hardin County Facility Managers Association and ECTC to provide customized training programs when and where it's most convenient for businesses and their employees.
Each year, EIFTC awards a $3,000 scholarship to a full-time ECTC student aged 26 or younger who is a dependent or spouse of someone employed by a donor member company of EIFTC. Donor members include AGC Automotive, Akebono, Altec Industries, The Cecilian Bank, City of Elizabethtown, Dow Chemical, Flex Films, Gates Corporation, Metalsa, Mouser Cabinetry, Orbis Corporation, Plastikon and Soudal. Reynolds' father, Scott Reynolds, is an employee of the City of Elizabethtown.
"Receiving this scholarship is very meaningful to me and I'm grateful to the donors," Reynolds said. "It will greatly help my future and will put me on the path to achieving my goals."
First formed in 1987, EIFTC is dedicated to workforce excellence and includes representatives from business, industry, Elizabethtown/Hardin County Industrial Foundation (EIF), and ECTC. Its primary purpose is to develop and implement various training programs for local industry, upgrade skills of current employees, and provide continuity of educational development for students. As a member of the EIFTC, employers can take advantage of local training solutions at a reduced rate and take part in invaluable networking opportunities.
"We created this scholarship as an opportunity for a student to use it toward their passion, and to give back to the community," said Kent Fuller, assistant general manager at Flex Films and EIFTC chair. "All of these companies came together to donate and make that happen."
Reynolds will study Culinary Arts at ECTC, then, after graduating, plans to attend Sullivan University to study baking and pastry, with the end goal of opening her own bakery.
"I hope that my bakery will be a place people will love to visit to enjoy amazing desserts with friends and family," she said.
For more information on EIFTC, contact ECTC Workforce Solutions at 270-706-8700 or visit https://eifky.org/training-consortium/.