ECTC Respiratory Care program receives President's Award for Excellence
Published on Jul 26, 2022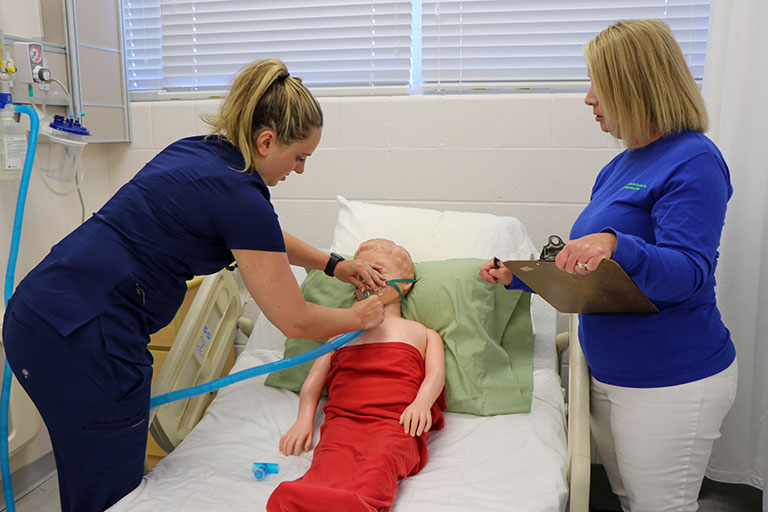 Respiratory Care student Kathryn (Katie) Ball completes her aerosol face mask competency skill during skills lab with Respiratory Care Coordinator Rebecca Higdon.

ECTC Respiratory Care program was recognized by the Commission on Accreditation for Respiratory Care (CoARC) to receive the President's Award for Excellence in Credentialing Success Award on July 26.
This award is presented as part of the CoARC's continued efforts to value the RRT credential as a standard of professional achievement. The CoARC views the RRT credential as a measure of a program's success in inspiring its graduates to achieve their highest educational and professional aspirations.
In March 2021, ECTC's Respiratory Care program successfully achieved their second re-accreditation since the program's start in 2009 and implemented an 18-month completion status Spring 2022.
"Our advisory board, consisting of clinical managers and supervisors, is very excited to get our graduates six months sooner than previous cohorts," said Respiratory Care Coordinator Rebecca Higdon. "Enrolled students will go through the same content, eligible for the same exams upon graduation and be held to the same high standards. Local employers love this 18- month option and seek out ECTC graduates."
ECTC President and CEO Dr. Juston Pate said the college was proud to accept the award.
"The work our Respiratory Care program's instructors have put in to meet workforce needs and provide quality training for our students is remarkable," said Pate. "This award is wonderful news and speaks to the quality education our future healthcare workforce receives at ECTC."
Higdon said the award is an honor and a confirmation of the program's excellence.
"Being recognized as one of 23 programs nationally with 100% pass rates on the RRT is a huge accomplishment," said Higdon. "Faculty at ECTC care about the success of our students and try to instill drive into them to be the best they can be, and our graduates are well prepared to take board exams and function as vital members of the cardiopulmonary team. The program isn't easy, but these pass rates testify to the importance of perseverance for our enrolled students."