Business student brings boarding dreams to life
Published on Jul 28, 2022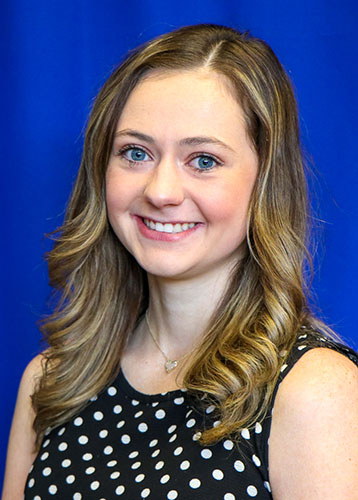 For 19-year-old Aubrey Mealey, her education at ECTC prepared her to make her dream of opening a business a reality. Currently a full-time pet groomer and business student, she had the know-how to create a strong business plan and succeed in securing a small business loan.
The $15,000 loan allowed her to open her business, Aubrey's Bed and Biscuit, a boutique dog and cat boarding service in Lebanon, early this year.
"I wanted to create a boarding experience that was more than a kennel," said Mealey. "I wanted to do something for those pet owners that treat their pets like their babies."
Steve Bratcher, one of her business instructors, advised her on a business plan to make her vision a reality.
"I've had Aubrey several times in class and she's really putting into practice what she's learning," said Bratcher. "When she expressed the idea for Aubrey's Bed and Biscuit, I was excited to help her beyond the classroom with developing a business plan that she eventually took to the bank."
Bratcher's supply and demand class, she said, opened her eyes to making her business a reality.
Mealey said Bratcher and other faculty and staff members like Dawn Hayes at the Springfield campus, who helped her explore her options at ECTC, have been instrumental to her experience and success.
"I think she has found college to be an environment where she can grow and is really putting her education into action," said Hayes. "Aubrey seeks counsel and is one to really listen to the advice offered, which is in my opinion why she is so successful."
Others have noticed what Bratcher and Hayes see in Mealey. She was named a finalist for the National Association of Women Business Owners – Kentucky's Next-Gen Women Business Owner of the Year, which focuses on the younger generation of women business owners to uplift them in their efforts.
Mealey utilizes online and in-person classes at the Springfield campus to accommodate her lifestyle with flexible scheduling and said the college is really a community.
"Even the custodial staff are encouraging, stopping me in the hall when I'm on campus to check-in with me and see how things are going with classes and my business," she said.
"If I had to describe my experience at ECTC with one word, it would be 'opportunity,'" said Mealey. "Small class sizes allow for one-on-one contact with your professors who really care about helping you achieve your goals, the variety of classes expands my experience and I love the eight-week schedule too because I can move through material quickly and stay focused."
At Aubrey's Bed & Biscuit, Mealey transformed a shed resembling a tiny home into an apartment for dogs and cats and provides full-service pet care, striving to be a place pets want to visit.
Within months of opening, her business was fully booked through September 2022. Mealey is looking toward graduation in Spring 2023 with goals to expand her business and professional relationships.