LG&E visits ECTC automotive and diesel students
Published on Sep 12, 2022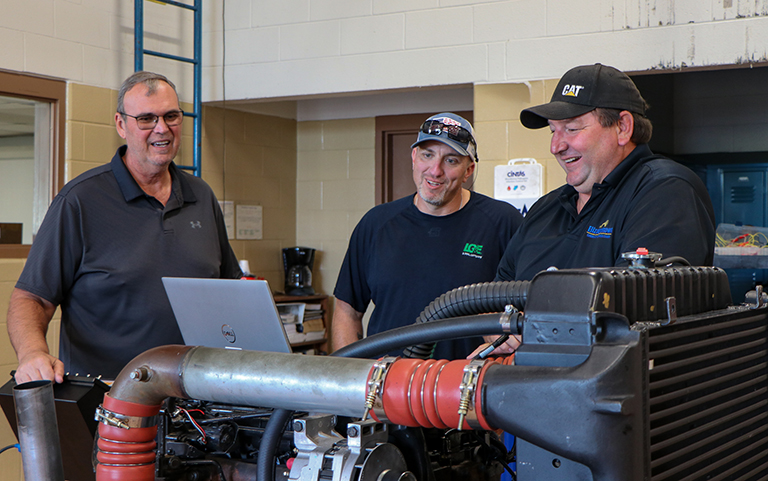 LG&E employees talk with ECTC Automotive and Diesel Instructor Joe Valora about career opportunities for students. Pictured from left are Nathan Nash, Team Leader and Supervisor; Jackie Burba, Senior Mechanic; and Valora.
LG&E employees visited ECTC automotive and diesel students yesterday to discuss career opportunities and job openings within the company.
Nathan Nash, LG&E team leader and supervisor at the Magnolia station, has been in his current position for 21 years after moving up through the company. He began in instrumentation and electronics at Millcreek.
"We have a mechanic job opening up and wanted to visit the students here to get the word out," Nash said. "We're really looking for someone who already has interest and the fundamentals. Students here have that, plus talent and the education to grow in their career."
In addition to job responsibilities and benefits, Nash spoke about the opportunity to move up in the company like he did.
"LG&E gives us a tremendous opportunity to continue growing our education and ECTC is a great asset to have so close by," Nash said. "They, administer the training for a lot of what we do at LG&E."
Jackie Burba, senior mechanic at Magnolia, followed a similar path after being hired at LG&E. He moved to his current position upon gaining credentials with ECTC's industrial maintenance program.
"I was already out in the work force but needed credentials to promote into what I do now," Burba said. "ECTC is a great resource with a lot of subject matter experts and a variety of opportunities to gain knowledge and skills that will help you move up to another job if you're already employed. I took a lot of fundamentals away from my time at ECTC and I highly recommend it."
LG&E's partnership with ECTC has provided many students the opportunity to intern with the company for a variety of positions while in school. It offers a unique pathway for employment and job advancement for students gaining a degree or going back to school to add credentials to their work experience.
"We look forward to continuing our relationship with ECTC, working together now and in the future," Nash said.