Metallica Scholars program makes a difference in student's life
Published on Dec 12, 2022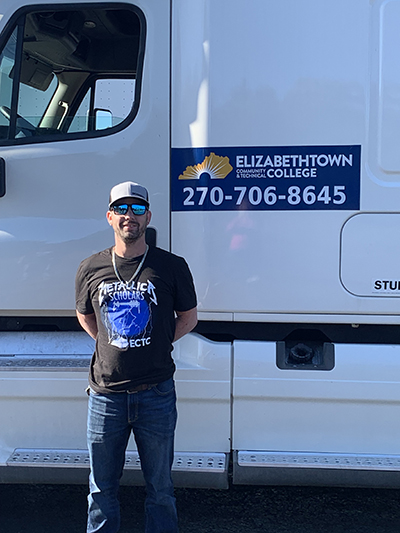 For Christopher Pollock, the Metallica Scholars Program represented a way up and a way out. The 35-year-old father of three – two boys and one girl – was living with his parents and struggling financially when he saw an advertisement for the Metallica Scholars Program for Commercial Driver's License (CDL) training at Elizabethtown Community and Technical College (ECTC).
"I had trucking experience and really liked it," Pollock said. "I'd ventured away from it but really wanted to pick it back up again."
Pollock was concerned about affording CDL training, but knew that if he wanted to create a better life he had to find a way. That's where the Metallica Scholars Program made a difference. The scholarship paid for all but a small portion of his CDL training.
"This scholarship really helped with school – with the financial aspect but also with my confidence," Pollock said. "It was up to me to complete the program and I did."
After graduating from ECTC's CDL program and passing his exam, Pollock was able to increase his income enough to buy a house and to be financially stable.
"It took me from really low to really high," he said. "I wouldn't be where I'm at today if it wasn't for the Metallica Scholars Program. I really appreciate them giving people the opportunity to earn a certification or degree that they otherwise couldn't afford and I'm just very grateful. Trucking was a goal, something I really wanted to do, and they helped me reach that goal."