ECTC Student trains for Olympics
Published on Dec 8, 2022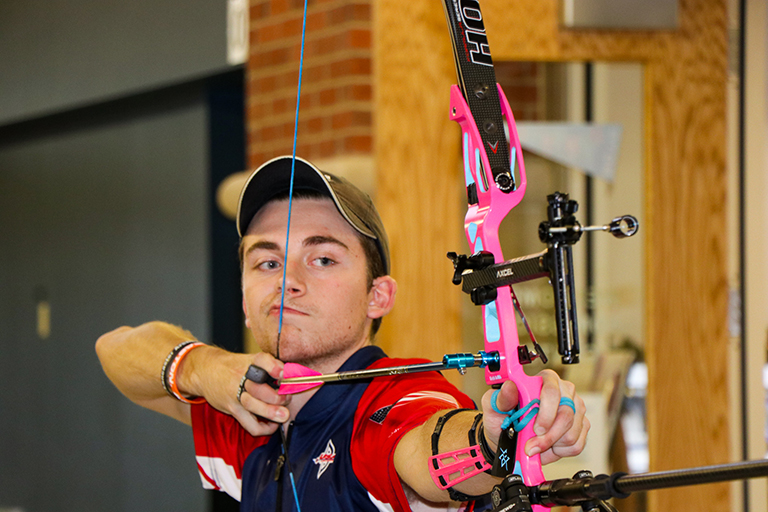 Cameron Senay takes aim at the Olympics while studying for his career at Elizabethtown Community and Technical College.
The 18-year-old began in the Industrial Maintenance Technology program in the fall while dabbling in other advanced manufacturing programs.
Before coming to ECTC, Senay planned to train in archery at the Olympic Training Center in Chula Vista, California. In April he was told there were no resident athlete spots at this time. He's ranked fourth nationally in Olympic recurve.
ECTC, he said, had always been a potential choice. There were other colleges with scholarship opportunities but he said they didn't have a program he was interested in studying.
"Here, I can be in and out quick, go for free under the Work Ready Kentucky Scholarship while doing a program I'm interested in and still be able to travel and work," Senay said. "It's the best option if I'm not at the training center."
He's shot competitively since the sixth grade with the National Archery in Schools program.
"I've had a bow in my hand since I was seven or eight," he said, adding he started shooting in the backyard with his dad when he was in Cub Scouts.
While shooting in high school, a coach recommended he try S3DA U.S.A archery and compete in Olympic recurve. He spent three years researching it and convinced his parents to do it.
In 2020, Senay got his first Olympic recurve bow and stopped competing in high school archery his senior year to pursue Olympic recurve full time.
Learning to shoot the Olympic recurve bow takes a lot of training because it's a very form intensive sport, he said.
"In order to shoot it well, you have to do the same thing with your body every single time across hundreds of arrows during competition," he said. "The distance we shoot requires that our point of aim be within the tolerance of about the size of a ballpoint pen held at arm's length."
It's not just pulling a bow back and shooting, he said.
"Learning that form, for most people, will take an average of five years to get to the point of being at an elite level," he said, adding he learned it in about a year.
He started in the youth series that decides the rankings nationally and the U.S. National Team. In the first year, Senay ranked fourth in the under-18 category. Last year he shot as a junior in the under-21 category and ranked fourth again earning a second spot on team U.S.A.
While competing, Senay has broken the National Field Archery Association indoor national record by two points, a record that had stood for about five years. He did it by almost shooting a perfect score.
"There's a whole new threshold that I need to reach," he said, admitting there's more to learn and achieve.
He called archery a sport of repetition.
"If you put in the work and put in the time you can get really good," he said. "You have to be persistent and dedicated."
His goal is to push himself to make the team for the Paris 2024 Olympics. Over the next two years he will shoot in tournaments that will narrow the field for the team. The top three archers at the end will be sent to the games.
Taking classes at ECTC gives him the flexibility to train and go to those tournaments. He knows competitors at other colleges that take online courses while they compete, but he would rather take in-person, hands on classes for the field he has chosen.
"I'm in a trade and working with my hands," he said.
His classes are only two days a week which not only allows time for Senay to train and compete but also helps him work at Atlas Development group to earn money for what he said is an expensive sport.
So far, he said, it's been a great experience and the professors at ECTC support him and help him work around his archery.
Making the Olympics, he said, would be his proudest accomplishment.
"Archery has always been my thing," he said. "I was never the kid who could run a lot or the great basketball player but then I found archery."
If you're interested in continuing your education with a program that is flexible to your schedule, start your free admission application or call 877-246-2322.