Adult Learner transfers to Penn State University
Published on Dec 8, 2022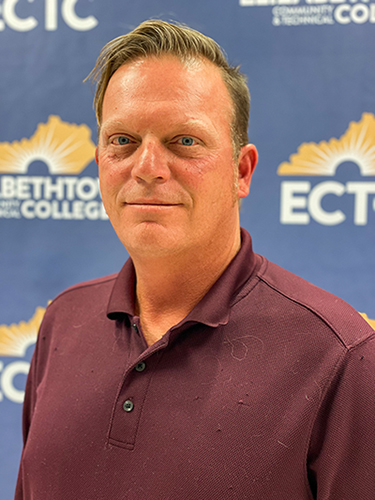 February will mark 28 years in the golf industry for Elizabethtown Community and Technical College adult learner David Thomas, who graduates with an associate degree this month. He will begin next semester online at Penn State University, working toward a bachelor's degree in agriculture with a focus in turf science.
Originally from Tampa, FL., Thomas obtained a certificate in agriculture from Tampa Tech High School. Various jobs in field turfing and golf course maintenance led Thomas to Kentucky, where he is now the assistant superintendent at Hunting Creek Country Club in Prospect.
Thomas says it isn't the money that led him to go back to school, but the education he needed to impact change."
I put my kids through college by growing grass and now I want to change the sustainability standards in the golf industry," Thomas said. "Too often courses are using chemicals that are unnecessary. I want to start more conversations in the industry around the theory of sustainability and minimalistic agronomy, limiting resource waste and using cleaner products."
ECTC agriculture program coordinator Ben Smith says he's unsurprised by Thomas' ambition.
"David is a great student academically and has been extremely professional from day one," Smith said. "I think he really exemplifies the kind and quality of student that ECTC strives to graduate. He exercises a great balance of technical and professional skills that will no doubt translate into the workforce."
It was the intentionality of Smith and other instructors that Thomas said made his journey a smooth one at ECTC.
"Mr. Smith would video record the lectures for in-person classes so that I could learn the material online. If he hadn't done that, I may not be graduating now," he said. "He always made time to answer any questions I had and brought his personal experience to the material, which I really appreciated."
Thomas wishes more adults would take advantage of the opportunities ECTC provides.
"I'm a first-generation college student with a family to provide for, so financial aid was crucial for me," Thomas said. "I think if more adults asked questions about the possibilities from FAFSA, they would start back to school for that degree they've been putting off."
As helpful as the financial aid was for Thomas, it was the people at ECTC that made the difference for him.
"Stacey Bishop from the Educational Opportunity Center was the reason I started at ECTC," he said. "I searched for agriculture programs that may be a good fit for me. Once I decided on ECTC, Stacey literally helped me with the entire process. She arranged placement exams, helped me fill out the admission application, encouraged me along the way and made it all very easy."
Those ready to take the next step toward their education can contact the Educational Opportunity Center at 270-706-8469 or ectc.eoc@kctcs.edu. ECTC's free admission application is located at https://elizabethtown.kctcs.edu/admissions/start-your-application/index.aspx.