ECTC students and alumni connect with employers through Handshake
Published on Feb 22, 2023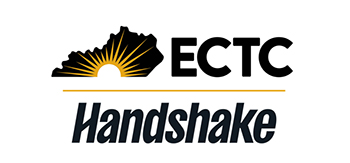 ECTC students are now using Handshake, a free online career platform, to search for full or part-time careers, internships, co-ops, and apprenticeship opportunities. Handshake brings together students, colleges, and employers all on a single platform and is available for ECTC students and alumni.
Over 7,000 Kentucky employers and all the Fortune 500 companies use Handshake to recruit post-secondary talent. Handshake sets itself apart from LinkedIn and Indeed because it is geared toward college students and alumni with a focus on career interests and job relevancy. Consequently, Handshake reduces barriers for all students, no matter who they are, where they're from, or who they know.
"I am excited to connect employers and career opportunities to our students and alumni through Handshake," said Laura Stover, ECTC Career Services Coordinator. "The KCTCS partnership with Handshake is a game-changer because it reduces barriers for all students by providing access to one hundred percent of Fortune 500 companies and thousands of organizations across Kentucky."
Current students and alumni can access Handshake by downloading the Handshake app on the Apple Store or Google Play store. Upon activating an account, students or alumni will create a profile with job preferences, industry choices, cities where they want to work, and privacy settings. There is an option to upload a resume and fill-in work experience.
The more information listed on their profile, the greater the chances of a having a recruiter reach out to them, and for them to receive curated job recommendations. Through Handshake, students can receive interview requests from employers, participate in virtual interviews, attend employer events, and attend virtual career fairs.
If students, alumni, or hiring organizations have questions about Handshake, they can reach out to Laura Stover, ECTC Career Services Coordinator, at lstover0003@kctcs.edu or call 270-706-8445.