Beacon of Light awards honor 9 African American leaders
Published on Feb 25, 2023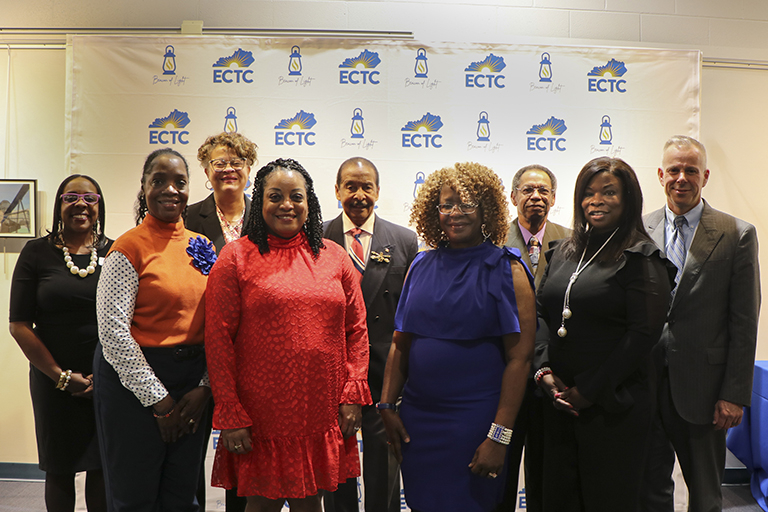 Front row from left to right: Stephanie Harrison, Minister Linda Dixon, Kim Iman. Back row from left to right: Jerisia Lamons, Terry Owens, Brenda Hickman, Jerry Bransford, Johnny Scott, and Abound Credit Union CEO Ray Springsteen (event sponsor). Not pictured: Duane Nunnally and Reverend Richard Lockette


Elizabethtown Community and Technical College (ECTC) celebrated nine area leaders at the 2023 Beacon of Light Awards, which honor African Americans in the college's 10-county service area for their successes, exemplary service to their professions and communities, and their commitment to servant leadership and equity. The fifth annual award ceremony, sponsored by Abound Credit Union, was held Feb. 24 at the Morrison Gallery at ECTC.
"Each of these recipients plays an important role in increasing diversity, equity and inclusion. They have made our community a better place for future generations, and we are very proud to partner with Abound Credit Union to celebrate their contributions," said ECTC Director of Cultural Diversity Jerisia Lamons.
Recipients of the fifth annual Beacon of Light Awards, chosen by a special selection committee, include:
Jerry Bransford of Glendale is an interpretive ranger at Mammoth Cave National Park and well known for sharing the Bransford family history of the park. He retired from Dow Corning, is a past president of the Hardin County branch of the NAACP, and he and his wife are active wedding photographers. After attending West Kentucky Technical College, he was drafted into the military at the height of the Vietnam War and was honorably discharged after two years.
Linda Dixon of Radcliff is a minister and served in the Army National Guard for eight years. She has served her country as a government service employee for 19 years and is currently working at the U.S. Army Human Resource Center (HRC) as a HR Assistant in Officers Promotions Division. A Western Kentucky University (WKU) graduate, she has earned numerous awards and recognitions, including the Radcliff North Hardin Ministerial Association Community Service Award, Brother to Brother Community Service Award, Radcliff Residence and Business Association Award, Radcliff Community Service Award, Fort Knox Community Service Award and many others.
Stephanie Harrison of Bardstown has served her community as a social worker for nearly 30 years and currently works for Central Kentucky Head Start. A WKU graduate, she is a member of the Juneteenth Committee of Nelson County and the Bardstown-Nelson County Human Rights Commission, vice chair of Bethany Haven Homeless Shelter Board of Directors, formation chair at Saint Monica Catholic Church, and an advisory board member of the Archdiocese Office of Multicultural Ministry. She has been honored with the Genevieve Boon Award for leadership in Afrocentric education and adult formation and the Our Commonwealth #I Am Her Advocacy Award.
Brenda Hickman of Bardstown is often described as the Childcare Whisperer and has made a significant contribution to shaping the future of childcare in her community. She currently serves as the assistant director for the Educational Enrichment Program for preschool through first grade at Bardstown City Schools. Throughout her successful career, she has guided and mentored many in the childcare profession and is part of a first-of-its-kind early childhood administrator/director apprenticeship program. Her prior roles include director of Nelson County Schools childcare program. A graduate of Eastern Kentucky University and ECTC, Hickman also helped start The New Life Center, a local non-profit organization supporting parents and caregivers.
Kim Iman of Elizabethtown is a quality improvement advisor and project manager for QSource, a Center for Medicaid and Medicare Services contractor, serves on the Elizabethtown Independent Schools Board of Education and is the creator and director of PURE Inc., a non-profit organization that assists young ladies. PURE stands for Perfect You Really Exists. A graduate of Eastern Kentucky University and Troy University in Columbus, Ga., Iman has a passion for youth in the community, for which she credits being exposed to various subject matters as she was growing up, allowing her to pursue her career goals. She is also a member of the Fort Knox Alumnae Chapter of Delta Sigma Theta Inc.
Rev. Richard Lockette of Vine Grove is director of the Celebrate Recovery program at Saint Stephen Church and has helped many people who felt they had nowhere to go. He also has mentored in the areas of photography and construction and continues to provide spiritual guidance to inmates and parolees. He was instrumental in planning and presenting the recent Jazz 'N More concert, entertaining more than 250 attendees at Saint Stephen Church – Hardin County. As a cancer survivor, he works and serves with the passion and heart of an overcomer. He has been honored with the Hardin County Man of the Year Award and is a member of the Phi Beta Sigma Fraternity, Inc.
Duane Nunnally of Rineyville joined the military at 19 and retired after 29 years. He earned a bachelor's degree in business, human resource management, and a master's degree in organizational leadership. He serves with the mentoring group Brother to Brother, is vice president of the Radcliff North Hardin Minister's Association, is a member of the Kentucky Bluegrass Sergeants Major Association, the Making a Difference Conference Team and the NAACP, is an elder with Global Ministries International, and is a singer, songwriter and actor. He currently is a Human Resource Specialist in the Leadership Development Division at Human Resource Command. He plans to retire in 2024 and do more to bring people together.
Lt. Col. (retired) Terry Owens of Radcliff is a native of Newport News, Va., and served in the U.S. Army from 1987 to 2017 as a noncommissioned and commissioned officer in the Army Medical Service Corps as a Human Resources and Operations Officer. She deployed to Bosnia and Afghanistan, and she has earned numerous military and community awards including the Combat Action Badge, Bronze Star and the Hardin County Chamber of Commerce Ralph Reese Fort Knox Community Partnership Award. She now serves as a Radcliff City Council member and director of community outreach and development at the General George Patton Museum of Leadership at Fort Knox. She holds a bachelor's degree and two master's degrees and is currently pursuing a doctorate in public administration.
Johnny Scott of Vine Grove served in the U.S. Army for 20 years, working in food services. After completing his Army career, he dedicated his time to volunteering for others. He has served his community through Warm Blessings since its inception at College Heights United Methodist Church in 2005. Through the last 18 years, Scott has helped feed and shelter those in need. Whether he is washing dishes, planning dinners or cooking meals, he works diligently to ensure that the food produced is safe and served with love. In addition to Warm Blessing, Scott volunteers with Wesley Hilltop, College Heights United Methodist Church, Room in the Inn, the MUMS and his church mission team.