ECTC announces 2023 Distinguished Alumni and Lifetime Achievement honorees
Published on Feb 27, 2023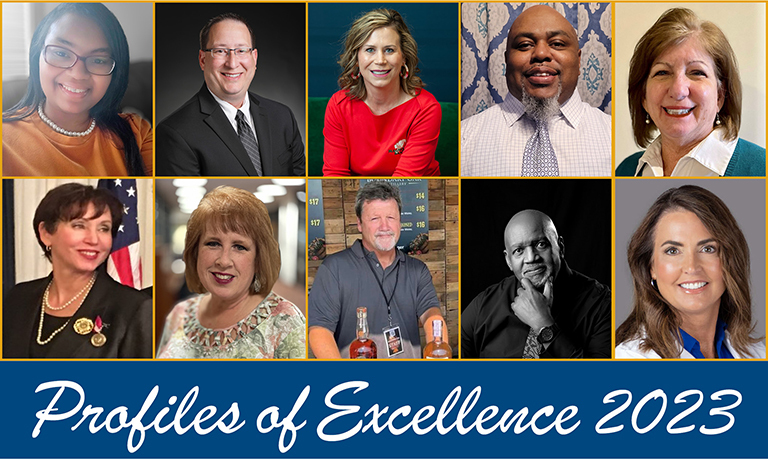 Elizabethtown Community and Technical College is recognizing eight alumni and two retired employees for their exemplary work in and outside of the community through the annual Profiles of Excellence celebration.
The Distinguished Alumni program has now recognized academic, professional and humanitarian endeavors of 146 former students. Those recognized this year include Dr. Cassandra C. Best, John Wesley Bush Jr., Sabrina Edwards Coffman, Michael Curtsinger, Kimberly Baugh Douglas, Brent Goodin, Deena Friend London and Deborah Joy Boulware Murphy. Names and photos of this year's honorees will join others in the Hall of Distinguished Alumni, on display in the atrium of the Regional Postsecondary Center on ECTC's main campus.
In addition, retired professors Bob Harris and Janice Nemes will receive the Lifetime Achievement Award for their service to the college. 
The Profiles of Excellence celebration will be held in person for the first time since 2019. The event is 6-8 p.m. March 16 in the Morrison Gallery at ECTC. To RSVP, email janet.grimes@kctcs.edu by March 9.
The 2023 ECTC Distinguished Alumni include the following:
Dr. Cassandra C. Best of Owensboro serves the Henderson County public school system as the eighth-grade math educator and eighth-grade math team lead. Best is a first-generation doctoral student, and fosters an enthusiasm for education and pays that forward to her students, colleagues and community. She attended ECTC in 2010, on her way to acquiring a Bachelor of Arts from Kentucky Wesleyan College in 2013, her master's degree from Morehead State University in 2017, and her Doctorate in Educational Leadership Technology, also from Morehead State University, in 2021. Best has achieved many firsts throughout her educational career, including being named the first African American Miss Kentucky Wesleyan in 2011 and being named Morehead State University's Doctoral Student of the Year in 2020 and 2021. She now represents Henderson North Middle School as Minority Ombudsman and by serving on multiple professional committees to advance all aspects of education, primarily in the field of stem and technology.
John Wesley Bush Jr. of Radcliff is the current clinical director and mental health and substance abuse therapist for The Commitment House in Elizabethtown. Bush retired from a full 20-year career with the U.S. Army as an Armor Crewman, which included deployments to Germany, South Korea and Kuwait. After retiring, Bush worked in various jobs that brought little fulfillment. Since he's always mentored young men throughout his Army career and later as a volunteer football coach for little league and middle school teams, Bush desired a lasting effect for the next phase of his career. In 2008, Bush enrolled at ECTC to obtain his Associate in Applied Science in Human Services in 2010, then went on to acquire both his bachelor's and master's degrees from Lindsey Wilson College, completing this journey in 2017. Majoring in human services and counseling with a special emphasis in mental health, Bush created a new and life-changing career as an alcohol and drug counselor at The Commitment House. It's clear he's found just the right niche for his natural leadership ability and concern for others. Led by his intense level of compassion, Bush provides the perfect balance of strength, guidance and support to help his clients succeed in overcoming the tough and ongoing fight against addiction. Bush has been married to Valerie Bush since 1996, and together they have three adult children and one grandson.
Sabrina Edwards Coffman of Cecilia, is an advanced practice nurse practitioner currently serving the Hardin County area by providing wellness, prevention and medical care for the community where she was born and raised. Coffman attended what was then ECC fresh out of high school in 1983. After obtaining her degree in office administration in 1989, she first entered the medical field in an office setting. Coffman was married with a family by this time, but it wasn't long before she set her sights on becoming a nurse, and she hasn't stopped advancing both her career and investing in the lives of her patients ever since. She acquired her degree in nursing from ECTC in 1996, her bachelor's degree in nursing from McKendree University in 2009, and went on to obtain her master's degree in nursing from Spalding University in 2013. Today, Coffman runs her own practice as an APRN, which is affiliated with Baptist Health Medical Group Internal Medicine. She's known for the dedication and personal level of care she shows to her patients. Coffman also owns an aesthetics business in Elizabethtown. She is married to Brent and they have three adult children.
Michael Curtsinger of Elizabethtown currently serves as the Executive Vice President and Chief Operations Officer for Town and Country Bank and Trust located in Bardstown. Curtsinger attended ECTC from 1998 to 2000, completing a two-year transfer program in computer programming that led him to the University of Kentucky. He graduated from UK in 2002 with a Bachelor or Science in Computer Science and a minor in mathematics. Curtsinger has spent most of his career heavily immersed in security, disaster recovery and technical aspects of information technology in banking. Curtsinger served as an instructional specialist for a few years after graduation, and credits this experience with technology solutions as a period of time which expanded his growth in many areas before he landed in the banking industry. He is married to Melissa and they have two teenage children.
Kimberly Baugh Douglas of New Haven serves as Vice President & Community Relations Manager for the Heartland Region of WesBanco. Douglas has spent her entire career with the bank, working in Hardin County all of her adult life. A 1987 graduate of ECTC with a degree in business office administration, Douglas enjoys giving back to the local community and is thankful her employer, WesBanco, supports her efforts as well. She has been a Hardin County Chamber Ambassador since 2009 and graduated from the Leadership Hardin County program in 2010. Putting her leadership skills to good use, Douglas currently serves on the Hardin County History Museum's board of directors, the Leadership Hardin County board of directors, and is the current board treasurer and public relations chair for the Kiwanis Club of Hardin County. Douglas is a Kentucky Colonel, and, in 2022, she was awarded the Ronnie J. Pence Chamber Champion Award from the Hardin County Chamber. She has been married to her husband Kevin for 35 years and they live in Nelson County where they also operate several small businesses.
Brent Goodin of Elizabethtown is the founder and CEO of Boundary Oak Distillery LLC. Located in Hardin County, Boundary Oak is the first legal distillery in the past 120 years to operate within county lines. Now in 2023, a decade after opening and officially a part of the Bourbon Trail, Boundary Oak Distillery has found itself voted fifth best craft distillery in America and third best in the state of Kentucky. With an in-depth product line spanning across 21 states and three countries, Boundary Oak has shown to bring over 30,000 tourists per year through the area, having a large impact on local tourism. A visionary in the spirits industry, Brent was named Hardin County Cultural Impact Entrepreneur of the year in 2018. Having said that, distilling quality bourbon is not the only thing Boundary Oak is known for. In 2020, amidst the Covid pandemic, Brent and his crew switched gears and were one of the first local businesses to produce and donate hand sanitizer throughout the country. Goodin attended ECTC from 1982 to 1984 and credits his interactions with teachers and students for molding him into the person he is today. Brent has three adult children and continues to serve our region in a variety of ways.
Deena Friend London of Elizabethtown is President and Chief Executive of Magnolia Bank. She attended ECTC after graduating high school in 1992, earning her Associate in Applied Science 2002. London added an Associate of Science in 2016. She credits ECTC for being an affordable and flexible option as she juggled raising a family and completing her education. While attending ECTC early on, London says she fell into banking as a way to fund her education and support her growing family. Since then, she has sought ongoing opportunities to continue to learn while also balancing work, family and community involvement. As a result of her strong work ethic and persistence, she worked her way up from bank teller to president, providing an inspirational example of what women in the banking industry can accomplish. She has been a featured speaker and panelist for many banking association events, and serves her community and church in various causes that are near to her heart. Currently, she serves on the Hardin County Chamber Board of Directors and the Down Syndrome Association of the Heartland. Deena is married to Daniel, and they have three adult daughters and two grandchildren.
Dr. Deborah Boulware Murphy of Radcliff currently serves as a professor at the College of Business for Western Governors University. In 2019, she was named as Professor of the Year for McKendree University. Along with her educational experience, Murphy has over 30 years of leadership and supervisory experience with the Department of Defense and the State Department. Before retiring as a GS15 Comptroller, she returned from a mission in Kabul, Afghanistan, as the Senior Human Resources Manager and Senior Advisor for the Department of Defense Resolute Support Mission. Murphy attended ECC from 1974 to 1976, and credits this time in her life as the building block for her desire to learn, think and create on her own, which made her attractive to employers. She went on to obtain her master's and doctoral degrees in the field of business management. Murphy is a wonderful mentor to others, even volunteering to teach Bible classes to women in senior living facilities. Murphy is married to Harold and together they have four adult children.
The 2023 ECTC Lifetime Achievement honorees include the following:
Robert L. Harris of Elizabethtown is a retired math professor, software developer and volunteer for several local non-profit organizations. He has also owned and operated an IT business for the past 38 years. After spending almost 44 years of his professional life teaching math at ECTC, he now uses his unique abilities to serve the local community in ways only he can do. Harris received the 2022 Golden Plate Award from Feeding America, after volunteering as an IT manager for that organization for 15 years. He was a Bible class teacher for 39 years, and currently serves as math coordinator for Brother to Brother, a local group that helps young men with language arts, mathematics and general life skills. Not one to crave the spotlight, Harris has been described as a quiet, behind-the-scenes type of leader for the college, who had a variety of ways of teaching complex concepts that allowed all students to believe they possessed the skills necessary to "do math." Harris was married to Marsha, who passed away in 2014. Together they have three adult children. Even in retirement, Harris enjoys taking courses and continuing to learn new things.
Jan Martin Nemes of Mt. Eden, Ky., spent 27 years of her professional career investing in the students as an English professor. While at ECTC, Jan taught all levels of English and literature, both on-campus and online, from developmental English, to dual credit courses at Central Hardin High School. She co-sponsored the ECTC Academic Team for many years, developed and sponsored the ECTC Student Ambassador program, and helped launch the First Year Experience Program, which demonstrates basic life and study skills and provides a firm foundation for educational success for ECTC students to this day. During her career at ECTC, Jan was selected for the KCTCS Leadership Academy and also served on the Board of the Kentucky Association for Developmental Education (KADE) for over 25 years. She was voted the Student Government Association Teacher of the Year in 1996 and earned KADE's Award for Distinguished Service to Developmental Education in 2003. Since her retirement in 2017, Nemes enjoys time at her log cabin near Taylorsville Lake. She is married to Marty, and they have three adult children and two grandchildren. She now appreciates time to travel and has become involved with several non-profit community organizations.