FACULTY SPOTLIGHT: After 20+ years, Cordova still looks forward to teaching
Published on May 3, 2023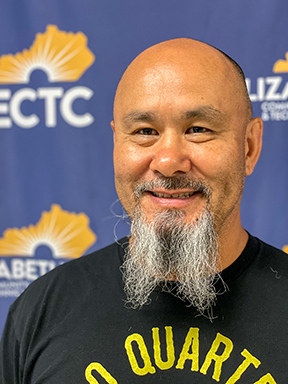 Professor Tim Cordova started a new chapter in his career this year as he became Elizabethtown Community and Technical College's Technical Division Chair, turning more of his attention to serving fellow faculty members and addressing the needs of about 10 academic programs. While he's proud to represent technical faculty as a division chair and to have a role in broader college initiatives, teaching remains the most rewarding part of the job.
"Teaching is my first love," Cordova said. "For all the years I've done it, I still look forward to it."
The former electrical technology program coordinator, Cordova has taught at ECTC for 21 years and currently teaches programmable logic controls, motor controls and other electrical technology classes. Prior to joining the college, Cordova taught for four years while serving in the U.S. Air Force. He currently serves as the state curriculum chair for electrical technology.
It's what happens after students complete their academic programs that makes teaching worthwhile, Cordova said.
"Most of my students join the local workforce and I'm able to follow their careers," he said. "When you see someone become the first person in their family graduate college and go out and make six figures, it's easy to see how the college is changing people's lives."
ECTC technical programs focus on good-paying jobs students can get into in two years or less, and that benefits not only ECTC graduates and their employers, but also the broader community.
"If we want to improve our communities, we must have trades. We must have people who know how to build and reconstruct things," he said. "Nationally, interest in skilled trades and manufacturing had fallen over the decades. Now, we're starting to see a push for the trades, and I love it."