ECTC graduates celebrate at 58th commencement
Published on May 8, 2023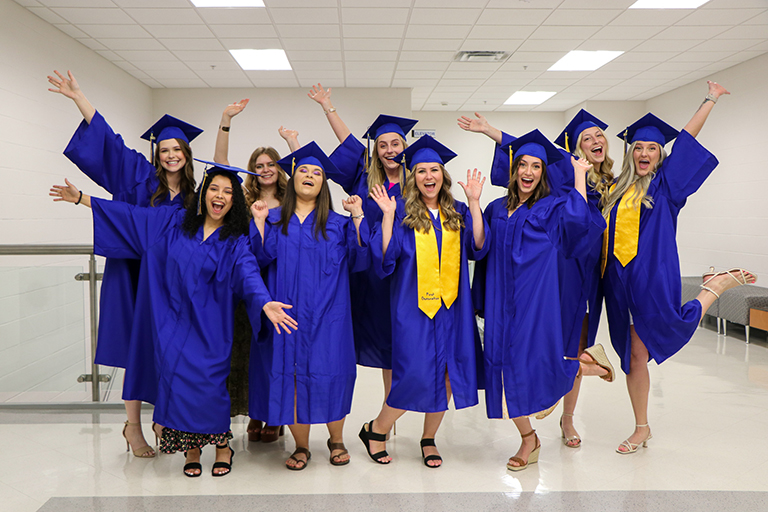 Elizabethtown Community and Technical College (ECTC) celebrated its 58th commencement Monday at the Elizabethtown campus. Approximately 300 graduates participated in the walk-thru ceremony and reception.
"We are so proud of our graduates as well as the faculty, staff and families who have supported them in their journeys," said ECTC President Dr. Juston Pate. "Whether they are entering the workforce or taking the next steps in their educations at four-year universities, we look forward to seeing the class of 2023 continue to grow and become part of the next generation of leaders in our region."
The ceremony honored students who completed their academic programs in Summer 2022, Fall 2022 and Spring 2023. ECTC expects to award 1,097 degrees and 49 diplomas to 931 students who completed their programs during those terms. Additionally, ECTC students complete about 2,000 certificates each year.
Credentials awarded include associate in applied science degrees in high-demand career fields like healthcare, business and IT, advanced manufacturing and more. Graduates also included those who earned an Associate in Arts or Associate in Science and are prepared to transfer to four-year colleges and universities to complete bachelor's degrees.
"On behalf of everyone at ECTC, congratulations to our graduates. You have accomplished something incredible for yourself, your families and your communities," Pate said. "You have also contributed greatly to the college, and you will always be a part of the ECTC family."