ECTC VEX Robotics placed fourth in the world
Published on May 8, 2023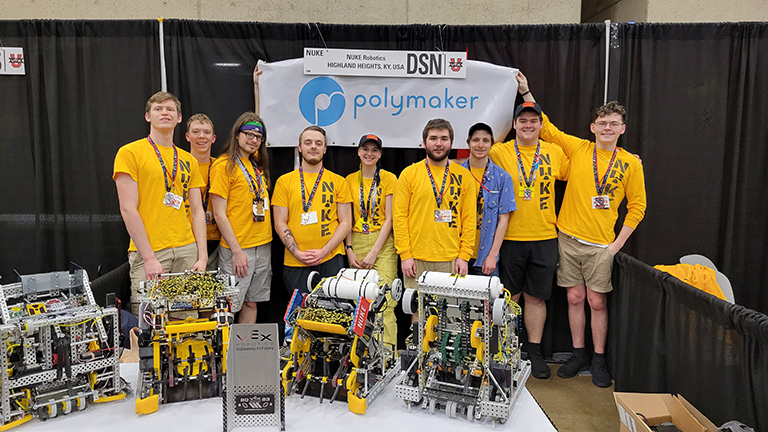 ECTC students Devan Hennemuth and Tanner Blake joined the Northern Kentucky University Vex U team (NUKE) for the Vex Robotics World Championship on April 28 and 29 in Dallas, Texas. The team took second place in their division, landing them in the overall top four of the 96 teams from across the world that competed.
The Vex Robotics World Championship is an international competition that brings together the best and brightest minds in robotics from around the world. The competition features challenging tasks that require participants to design and program their robots to complete specific objectives.
Marty Sutherland, ECTC Engineering and Electronics Technology program coordinator and team coach, was thrilled with their performance.
"I am incredibly proud of our robotics team," Sutherland said. "Their success in the competition is not only a reflection of exceptional skill but also of the many hours of hard work and dedication they put in to prepare for the competition."
NUKE advanced to the finals of their division, losing only to Shanghai Jiao Tong University from China.
For more information about the Engineering and Electronics Technology program or competing in Vex Robotics as an ECTC student, contact Marty Sutherland at marty.sutherland@kctcs.edu or 270-706-8685.