ECTC returns as part of Metallica Scholars Initiative
Published on Aug 3, 2023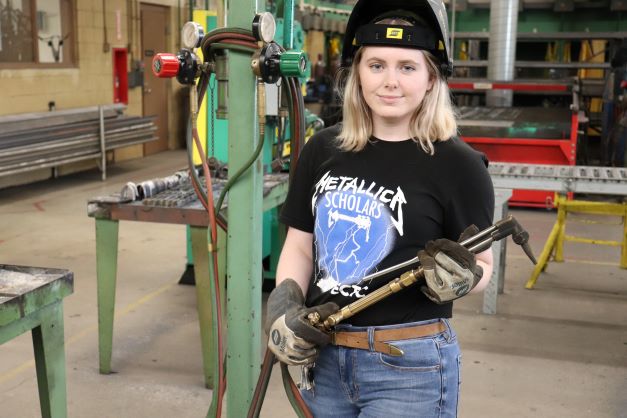 Metallica's foundation, All Within My Hands, continues its multimillion-dollar investment in critical workforce programs at community colleges nationwide. Among the schools, Elizabethtown Community and Technical College has been invited to return and will continue to receive Metallica Scholars funding to enhance career and technical education programs.
"The Metallica Scholars Initiative is so important to us because we are seeing results. Five years in, with the help of community colleges across the country, we are helping people fill these essential jobs which require skills and training. We are so proud and grateful that we can facilitate this program," said Lars Ulrich, Metallica.
The Metallica Scholars Initiative (MSI) was launched in 2019 by Metallica's foundation, All Within My Hands (AWMH), in partnership with the American Association of Community Colleges (AACC). The workforce initiative marks its fifth year with an ambitious expansion into new curricula. MSI now directly supports 42 community colleges across 33 states, and by the end of this year, it will have helped over 6,000 students pursuing careers in the trades. To date, Metallica and AWMH have invested over $6 million in the American workforce.
Throughout ECTC's participation in MSI, the organization has funded scholarships for advanced manufacturing and commercial driver's license students; helped develop the Ride the Lightning mobile technical training unit and Wherever I May Roam Truck Driving Academy; and provided tuition assistance to military students in the Advanced Manufacturing Army Career Skills Program. This year, funds will support students in advanced manufacturing programs, including $5,000 in scholarships. The college will announce more about those scholarships in the coming weeks.
"We're proud to partner with AWMH, AACC and Metallica for a fourth year and to build on the positive impact the program has for students and our region's employers that need highly skilled employees," said ECTC President Dr. Juston Pate. "There are incredible opportunities awaiting in advanced manufacturing, and the Metallica Scholars Initiative is a unique and powerful way to connect ECTC students with these high-demand careers."
Reaffirming a commitment to career and technical education at the local level, each new school brings incredible opportunities to a thriving and growing community.
"The Metallica Scholars Initiative is a strong and cooperative assemblage of the nation's best community colleges, creating a supportive climate for participants to communicate directly and share best practices. As a result, our Metallica Scholars leave the program well-trained and confident. Ultimately, the impact is felt locally and nationally as Metallica Scholars enter the workforce and fill in-demand technical positions," said Peter Delgrosso, AWMH Executive Director.
The 11 schools joining MSI this year include:
● Aiken Technical College - Aiken, South Carolina
● Central Wyoming College – Riverton, Wyoming
● Columbia State Community College – Columbia, Tennessee
● Front Range Community College – Westminster, Colorado
● Itawamba Community College – Fulton, Mississippi
● Northeast Wisconsin Technical College - Green Bay, Wisconsin
● Oxnard College (Ventura County Community College District) – Oxnard, California
● South Central College - North Mankato, Minnesota
● South Louisiana Community College – Lafayette, Louisiana
● Texas State Technical College – Waco, Texas
● Western Dakota Technical College - Rapid City, South Dakota
These newly added colleges are joining a roster of veteran schools invited to continue in the program. Each year, the returning colleges play an integral part in helping guide the success of the new schools.
The 31 returning schools include:
● Clark State Community College - Springfield, Ohio
● Central Community College - Grand Island, Nebraska
● Central Piedmont Community College - Charlotte, North Carolina
● Clackamas Community College - Oregon City, Oregon
● Clinton Community College - Clinton, Iowa
● College of Lake County - Grayslake, Illinois
● Columbia Gorge Community College - The Dalles, Oregon
● Community College of Baltimore County - Baltimore, Maryland
● East Central College - Union, Missouri
● Elizabethtown Community & Technical College - Elizabethtown, Kentucky
● Gateway Technical College - Kenosha, Wisconsin
● Grand Rapids Community College - Grand Rapids, Michigan
● Guilford Technical Community College - Jamestown, North Carolina
● Hudson County Community College - Jersey City, New Jersey
● Lone Star College - The Woodlands, Texas
● Middlesex Community College - Lowell, Massachusetts
● Milwaukee Area Technical College - Milwaukee, Wisconsin
● Mississippi Gulf Coast Community College - Perkinston, Mississippi
● Northern Virginia Community College - Annandale, Virginia
● Northwest-Shoals Community College - Muscle Shoals, Alabama
● Pima Community College - Tucson, Arizona
● Polk State College - Winter Haven, Florida
● Rockland Community College - Suffern, New York
● Salt Lake Community College - Salt Lake City, Utah
● San Juan College – Farmington, New Mexico
● Spokane Community College - Spokane, Washington
● Valencia College - Orlando, Florida
● Victor Valley College - Victorville, California
● West Virginia University Parkersburg - Parkersburg, Wes Virginia
● Westchester Community College - Valhalla, New York
● WSU-Tech - Wichita, Kansas
What began with 10 colleges and mostly manufacturing programs has developed into a diverse offering of workforce opportunities for students interested in gaining the skills and training necessary to find meaningful and well-paying careers.
"We are happy to continue to partner with Metallica's All Within My Hands Foundation to support the vital career and technical education work of the nation's community colleges," said Walter G. Bumphus, AACC's president and CEO. "Colleges across the country provide pathways to well-paying jobs through programs, services and training that lead to in-demand skills, certificates and degrees for students. These programs are responsive to the needs of local businesses and provide a pipeline of qualified workers to local industry. Partners like Metallica that continue to provide support for community colleges help us to showcase the importance of investing in the transformative power of community college education."