ECTC reports progress, celebrates Mayor Gregory
Published on Aug 29, 2023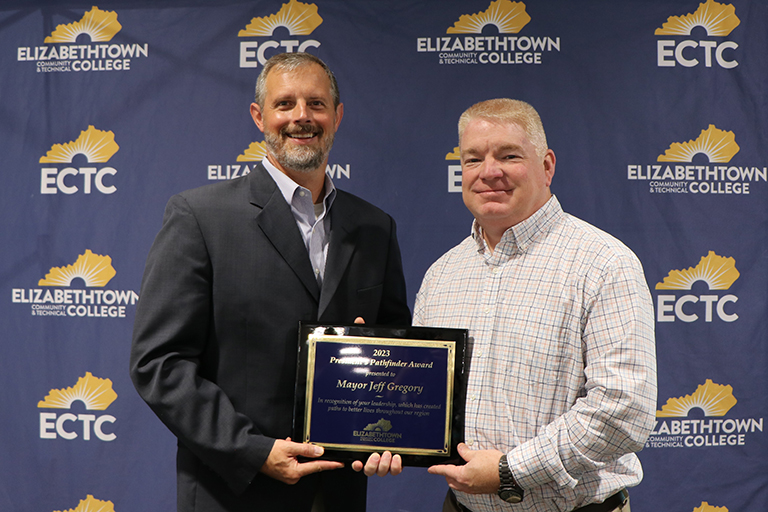 Elizabethtown Mayor Jeff Gregory on Tuesday received the Elizabethtown Community and Technical College President's Pathfinder Award in recognition of his impact in the community. ECTC established the award to recognize college partners whose leadership has created paths to better lives throughout our region.
"It is our honor to recognize Elizabethtown Mayor Jeff Gregory with the ECTC President's Pathfinder Award," ECTC President and CEO Dr. Juston Pate said. "We're celebrating his broad contribution to the community, but I must also note his whole-hearted support of the college. We cannot succeed as a college without strong support from our local community leaders."
Pate noted Gregory's role in economic development projects including Blue Oval SK Battery Park as well as the city's support of ECTC initiatives such as the Family Scholar House Home for Hope.
Gregory accepted the award at ECTC's second annual Community Breakfast.
"I was humbled and honored to receive the President's Pathfinder Award from ECTC and my dear friend Dr. Pate," Gregory said. "The many partnerships in this community are what makes this place and people so special. Big things are happening in Elizabethtown and we are ready for the challenge."
At the breakfast, Pate provided an update on what ECTC has accomplished in the last fiscal year and what the community can expect in the year ahead.
Highlights included major construction projects such as the renovation of the student center and addition of the University Center, a project that will bring additional bachelor's degree programs to the region through ECTC's partner colleges and universities.
Other updates included plans for renovating the Occupational Technical Building (OTB) to adapt to the evolving needs of advanced manufacturing programs; expanding the Leitchfield campus to offer technical classes; and upgrading the Science Building to meeting growing academic needs. In addition, the ECTC BlueOval SK Training Center is progressing and scheduled to open in the spring.
Pate also updated the community on student success at ECTC. The graduation rate, which is measured as the percentage of full-time students who earn a credential within three years of first enrolling at the college, has climbed steadily from 31% in 2017 to 49% in 2023. In comparison, the national community college graduation rate was 36% in 2021, the latest data available.
"The growth we're seeing in the graduation rate is remarkable, and because we're also seeing growth in our retention rate, we expect that upward trajectory to continue," Pate said. "But what's really exciting is what these numbers represent — students improving their lives and adding value to our community."
Community Breakfast guests also heard about the continuing campaign for the Family Scholar House Home for Hope. With $1.2 million left to raise through community donations, the project will bring 48 housing units to the Elizabethtown campus for parents attending college. The ECTC Foundation looks for the campaign to raise about $3 million of the $14.8 million total cost of the project.
Community members were invited to connect with the college in whatever way is most meaningful to them.
"There are so many ways community members can get involved and make a difference for ECTC students," said Chief Institutional Advancement Officer and ECTC Foundation Executive Director Dr. Megan Stith. "Whether they make a donation to the ECTC Foundation, volunteer, lend their expertise to enhance curriculum through one of our advisory committees, or support a program that aligns with personal interests, we are grateful for every community member who helps enhance what ECTC does for students."
To learn more about ways to support ECTC, including the Alumni Network, ECTC Foundation, scholarships and student support, contact Stith at megan.stith@kctcs.edu or 270-706-8721. To learn more about the Home for Hope campaign, visit ectcforbetterlives.com.