ECTC announces Metallica Scholar of the Month program
Published on Aug 31, 2023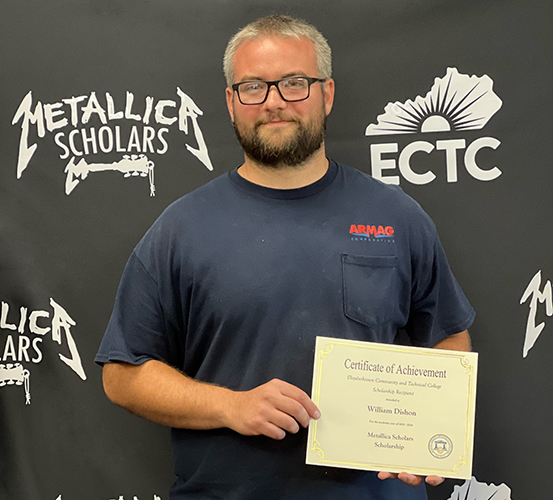 Elizabethtown Community and Technical College (ECTC) will award $5,000 in scholarships through the Metallica Scholars Initiative this academic year to students in advanced manufacturing programs. Scholarship recipients, or "Metallica Scholars of the Month," will be selected based on faculty recommendations throughout the year.
William "Zac" Dishon, industrial maintenance student, was chosen for August.
"This scholarship will definitely set me up for success," Dishon said. "I wanted to do the dual degree of industrial maintenance and electrical technology but couldn't make it work. With the scholarship, now I can."
Originally from Perryville, Dishon works as a maintenance technician at Armag in Bardstown. He was drawn to industrial maintenance because he enjoyed the variety and challenge.
"It's something different every day and very hands on," he said. "A lot of time my work involves starting from scratch and digging in to troubleshoot and figure out a problem."
Dishon and his wife, Krystal, have a 2-year-old daughter, Blakely. He will finish his industrial maintenance degree in the spring.
"The technical industry can be overlooked, but it is the backbone of the country," Dishon said. "I'd just like to say thank you to Metallica's All Within My Hands Foundation. Scholarships like this help people like me get through school and pursue a career. I'm 31 years old and not fresh out of high school, but I have this opportunity now and I'm going to do something with it."
ECTC is now in its fourth year participating in the All Within My Hands Foundation Metallica Scholars Initiative, in partnership with the American Association of Community Colleges.
"The Metallica Scholars Initiative has been so beneficial to our students," said ECTC Technical Division Chair Tim Cordova. "This scholarship is one more way the partnership will support both our students and the region's workforce through promoting high-demand technical careers in advanced manufacturing."