Community encouraged to help ECTC students through Thanksgiving meal drive
Published on Sep 28, 2023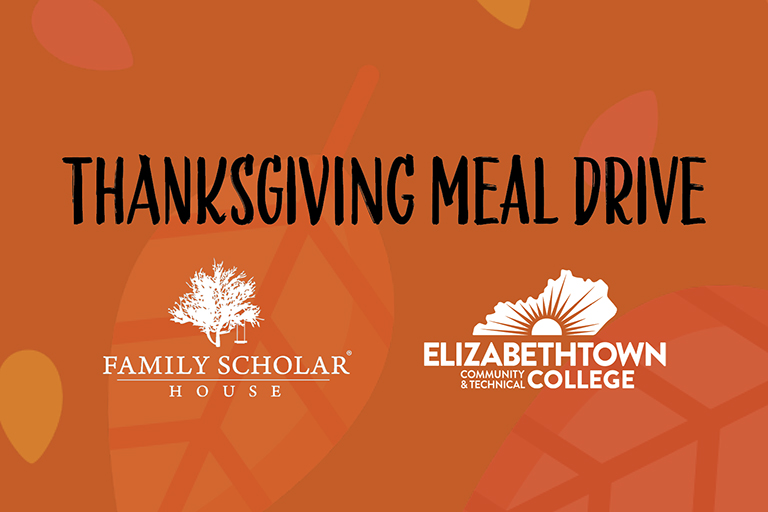 The community is invited to help Elizabethtown Community and Technical College (ECTC) students and their families celebrate Thanksgiving again this year through the Family Scholar House Thanksgiving Meal Drive. This is the second year for the drive, which served 65 ECTC students and families last year. Donations will be accepted Oct. 4 to Nov. 8 at various locations throughout the community, with a goal to serve at least 100 students this year.
"We are so proud of ECTC students, and we know encouragement from our community during the holidays will mean a lot to them and their families," said Lynnette Kennedy, Family Scholar House liaison who works directly with ECTC students in need. "We are thankful for our students' commitment to their education, which benefits our entire community, and appreciate our community coming together to support our students."
Each meal will include: a box of stuffing, a box of macaroni and cheese, a jar of turkey gravy, a can of cranberry sauce, a can of green beans, a can of corn, a box of cake mix, a tub of frosting, a box of instant mashed potatoes, a can of yams, two Kool-Aid packets, a small bag of sugar, an aluminum pan, a roll of aluminum foil, and poultry seasoning.
Monetary donations will be used to purchase a turkey, hen or ham for each meal
Community members are asked to purchase and drop off whole or partial meals at the following locations. Any other organizations interested in participating in the drive can contact Mary Jo King at Family Scholar House at maryjo.king@kctcs.edu.
Regional Postsecondary Center (RPC) lobby, ECTC, 600 College Street Road, Elizabethtown
Academic Technical Building (ATB) lobby, ECTC, 600 College Street Road, Elizabethtown
Hardin County Water District No. 2, 1951 West Park Road, Elizabethtown
Burnett & Griffin PLLC, 915 Memorial Court, Suite 100, Elizabethtown
Vine Grove City Hall, 300 W. Main St., Vine Grove
Signarama Elizabethtown, 1609 N. Dixie Hwy., Ste 117, Elizabethtown
WesBanco, Main Branch, 425 W. Dixie Ave., Elizabethtown
WesBanco, Brandenburg Branch, 416 Broadway, Brandenburg
Hardin County Public Library, 100 Jim Owen Drive, Elizabethtown
Hardin County Chamber of Commerce, 111 W. Dixie Ave., Elizabethtown
"We are grateful to each donor, including Nolin RECC and our partners serving as drop off sites, as well as employees from Reyes Coca-Cola and Hardin County Water District No. 2, who will coordinate the packaging and distribution of Thanksgiving meals," said ECTC Chief Advancement Officer Megan Stith. "This is a great way to make a difference so we can keep students focused on their educational goals rather than the expenses of the upcoming holiday season."
To support the drive with a monetary donation, make a credit card payment or send checks payable to ECTC Foundation may to: ECTC Foundation, Attn: Megan Stith, 600 College Street Road, Elizabethtown, KY 42701. For more information about the meal drive or to learn more about how you can support ECTC students, contact Stith at megan.stith@kctcs.edu.