ECTC announces naming of Robbins University Center
Published on Nov 16, 2023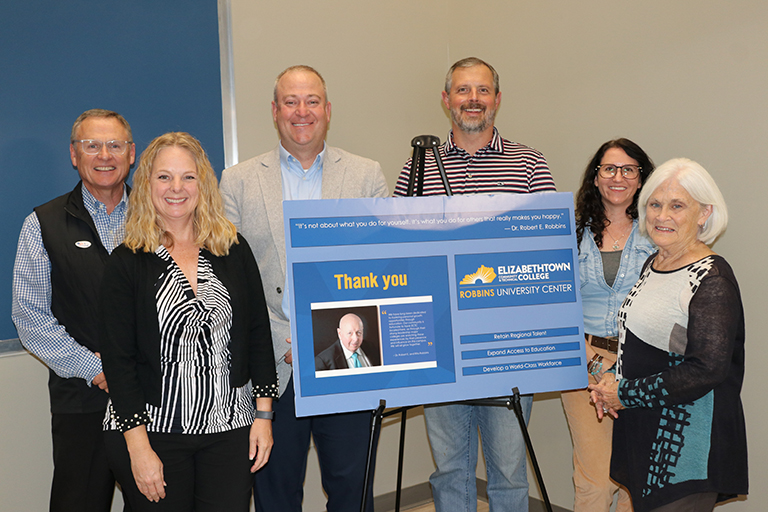 Elizabethtown Community and Technical College (ECTC) is recognizing the generosity of Dr. Robert and Rita Robbins by naming the college's University Center in their honor.
The couple made history in 2018 when ECTC received $1 million, its largest private donation to date, from the Dr. Robert E. and Rita H. Robbins Fund of Central Kentucky Community Foundation.
The Robbins University Center will allow four-year colleges and universities to offer high-demand bachelor's and master's degrees on the Elizabethtown campus and positions the community to retain regional talent, expand access to education and develop a world-class workforce.
"The historic $1 million donation was critical to our plans for a university center, but it also was a catalyst for the future philanthropic investment in ECTC that continues to resonate with donors today," said ECTC President Dr. Juston Pate. "Through their investment in ECTC, the Robbins family brought a vision to life and added value to the college so we can return that value to our community."
On campus Tuesday, Rita Robbins toured the Student Center building, which is undergoing the final phases of a renovation and will house the Robbins University Center. College leadership discussed the progress of the project and revealed a logo and rendering of a recognition display honoring the Robbins family.
"We have long been dedicated to fostering personal growth opportunities through education. Our community is fortunate to have ECTC located here, as through their strong leadership, major colleges are enriching these experiences by their presence and influence on this campus," Rita Robbins said. "Seeing all the changes unfolding in the Student Center made me wish I could be a student here."
The Robbins University Center is expected to open next year. For more information about transfer pathways and university center partners, contact Robbins University Center Director Saundra Kimberlain at ECTCTransfer@kctcs.edu or 270-706-8485.