Family Scholar House feeds 100 families for Thanksgiving
Published on Nov 17, 2023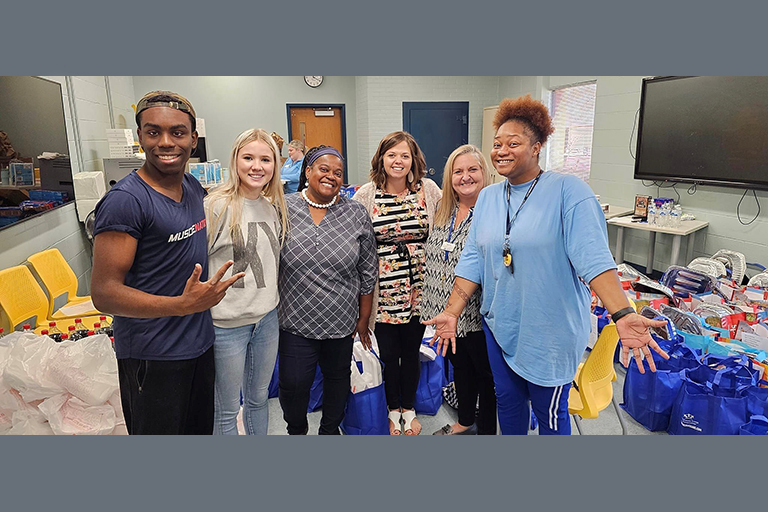 Once again, Family Scholar House (FSH) has celebrated Thanksgiving by distributing meals to Elizabethtown Community and Technical College (ECTC) students and their families in need. Thanks to a meal drive supported by the community, FSH was able to feed 100 families, a total of 448 individuals. Last year saw the distribution of meals to 65 families, 343 individuals.
"This meal drive and food distribution is a way to show ECTC students that we care about their happiness and security, both inside and outside of the classroom," said Mary Jo King, FSH volunteer coordinator. "The holidays can be tough for families with limited income. This is something tangible we can do to help."
Each family's meal included a protein of turkey, ribs, brisket or chicken, with stuffing, macaroni and cheese, gravy, cranberry sauce, green beans, corn, mashed potatoes, yams, cornbread, cake, Kool aid, aluminum roasting pan, foil, seasoning, and reusable shopping bags. In addition, families received items like soap, napkins, resealable plastic bags, and a handwritten note of encouragement.
"The goal was to provide everything needed to cook a complete Thanksgiving dinner," King said.
Lynnette Kennedy, Family Scholar House regional coordinator, said that the drive was a community effort.
"We are grateful to all the individuals, businesses and organizations who helped make this event such a success for the second year in a row," Kennedy said. "Providing these meals was a joyous occasion and I can't wait to see how many more families we feed next year."
ECTC and FSH extend special thanks to Hardin County Public Library, WesBanco, Burnett & Griffin PLLC, Signarama Elizabethtown, Vine Grove City Hall, Hardin County Chamber of Commerce, Hardin County Water District No. 2, Nolin RECC, Reyes Coca Cola and Feeding America, Kentucky's Heartland.
To volunteer with FSH, contact Mary Jo King at Maryjo.king@kctcs.edu or 270-706-8530. To learn more about the organization, contact Lynnette Kennedy at lkennedy0033@kctcs.edu or 270-706-8808.