Leadership
President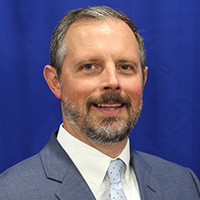 Dr. Juston C. Pate
President and CEO
I commend you for choosing to attend college, and we are glad you are here with us. When you enroll at ECTC, you will be part of a college that enjoys full accreditation through the Southern Association of Colleges and Schools. Your classes here will prepare you for your chosen career or for transfer to another university. You may register for classes at any campus with complete confidence that your courses will help you achieve your goals.
When you enroll at ECTC you will belong to a community of faculty and staff who are completely committed to your success. In fact, we are only successful when you are successful. That does not mean that everything will be easy or that you will get all the grades that you want. It does mean that we will work with you to help you succeed.
We strive to be relevant and excellent in our efforts to support your education. We are not only the most affordable and accessible institution in higher education, but we are also the most capable. Our faculty are not only credentialed at the highest levels, but are available and willing to assist you. Their top priority is not research and publications; it is your education.
Furthermore, I want you to know that Elizabethtown Community and Technical College is dedicated to serving our communities and economic region. We are focused on improving education and being a key player in the economic development of Central Kentucky. As such, your success is more than just yours or ours alone. Your success is our region s success!
Thank you for choosing our college. The work we do together will not be easy, but I promise it will be worthwhile. And in the end, we will be relevant and excellent together!
All the best,
Juston C. Pate, Ph.D.
President / CEO
Elizabethtown Community and Technical College
juston.pate@kctcs.edu
Originally from Harlan, Kentucky, Dr. Juston C. Pate brings a wealth of experience and knowledge to the Elizabethtown Community and Technical College community. Dr. Pate began his career in the classroom teaching English and Humanities at the high school level. From there, Dr. Pate became Director of Student Services, Principal of Mason County Area Technology Center, Associate Dean of Academics at Maysville Community and Technical College (MCTC), Interim Academic Dean, Chief Academic Officer, and Provost. In addition, Dr. Pate served as Interim President at Hazard Community and Technical College where he set baseline projections for revenue that allowed the college to be at 98% of tuition estimate by the first week of fall classes, strengthened community partnerships and connections, and implemented new recruiting practices which resulted in increased midterm and summer enrollment.
Juston's higher education career began at Southeast Community College where he earned an Associate of Arts. From there, Dr. Pate attended Union College and earned a Bachelor of Science degree in Secondary English Education. Juston then attended Morehead State University where he obtained a Rank I Certificate in Instructional Leadership and a Master of Arts in Educational Administration. Finishing out his higher education career Juston earned his Ph.D. in Higher Educational Leadership and Organizational Development from the University of Louisville.
Dr. Pate is an active member of his community. He has held memberships with Industrial Development Authorities, The Rotary Club, Chambers of Commerce, and has served on several regional boards. In addition, he has developed many leadership programs and courses, and has published three books on leadership development.
Juston and his wife, Jena, are lifetime Kentuckians and plan to raise their children in the Commonwealth. They are very excited for the opportunity to live and serve in the Elizabethtown community.
President's Leadership Team