Morrison Gallery
---
Creative Art and Exhibits
The Morrison Gallery is located inside the James S. Owen Building on Elizabethtown Community & Technical College's Elizabethtown campus. The gallery is open from late August through November (during the Fall semester) and from mid-January through April (during the Spring semester). The gallery hosts multiple exhibits each semester. Exhibits feature artwork by local and regional artists.
NEVER AGAIN
Murals of the Holocaust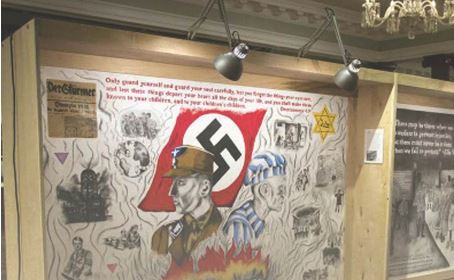 October 18 - November 21
On exhibit at Elizabethtown Community and Technical College's Morrison Gallery
Monday-Friday from 8:30 a.m. - 4:30 p.m. with extended hours each Thursday until 7 p.m. and Saturdays, from 10 a.m. - 3 p.m.
Never Again: One Holocaust Survivor's Story
A public program featuring an in-person, true-life account from a Holocaust survivor Alice Dreifuss Goldstein.
Join us for 7 p.m. Wednesday, October 18
The PAC, 384 W.A. Jenkins Rd., Elizabethtown
What does it mean to be HUMAN?
This is the question at the heart of an exhibit Central Kentucky Community Foundation is bringing to Elizabethtown.
NEVER AGAIN: THE MURALS OF THE HOLOCAUST will be on exhibit thanks to CKCF's MARVIN AND JOYCE BENJAMIN FUND. Through the fund, students and community members in our region will have a special opportunity to experience the murals created by middle and high school students in response to studying the Holocaust.
The Benjamin Fund exists to foster kindness, understanding and inclusiveness amongst the diverse people who call our community home. It has an emphasis on anti-Semitism that makes this exhibit and community event especially meaningful.
The murals are part of a project of Western Kentucky University's Center for Gifted Studies VAMPY Camp.
"There's all kinds of issues that studying the Holocaust presents, but when it comes down to it, we have to always come back to answer the question. "What does it mean to be human?" said Ron Skillern, who teaches the students who developed the murals. "That is a big question that we try to answer, because we must see other human beings as human beings. If we don't, we then devalue them, we sub-humanize them and then it becomes OK to do bad things to them. That is what this exhibit is about."

This experience is brought to you by:
THE MARVIN AND JOYCE BENJAMIN FUND of
CENTRAL KENTUCKY COMMUNITY FOUNDATION,
THE KENTUCKY CENTER FOR THE PERFORMING ARTS,
and the JEWISH HERITAGE FUND FOR EXCELLENCE.

Morrison Art Gallery
Elizabethtown Community & Technical College
James S. Owen Bldg. # 102
Monday through Friday from 8:30 AM – 4:30 PM.
Contact Info
For information about events planned for the Morrison Gallery, contact:
KCTCS/Elizabethtown Community and Technical College Morrison Gallery JSO 1st Floor Room 102 600 College Street Road Elizabethtown, KY. 42701 (270) 706-8507 or (877) 246-2322 extension 68507 Rachel L. Ray
rray0047@kctcs.edu