Peden Fund Grants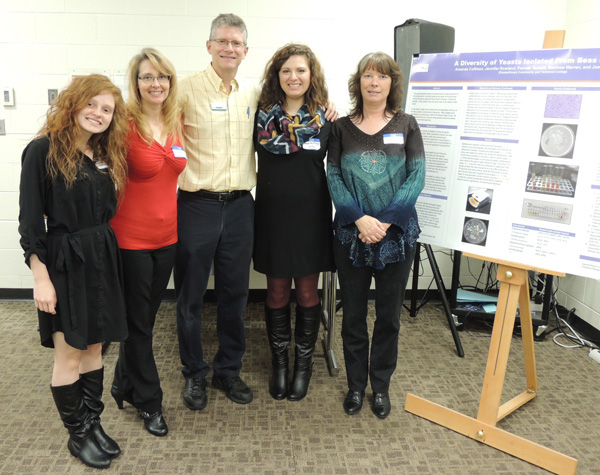 ECTC is grateful to collaborate with Central Kentucky Community Foundation (CKCF) to ensure faculty and students have the opportunity to apply for grants from the Peden Fund, managed by CKCF. This collaboration has provided funding that enables faculty and student organizations to further their educational pursuits, supporting activities like professional development, conference attendance, and study abroad.
Full-time faculty and student organizations with a faculty advisor are invited to submit applications for activities and/or projects designed to "enable students and professors to further their educational pursuits." Applicants must apply for each semester/summer term of project activity. Group applications are acceptable.
About the Peden Fund
The Pedens established an $800,000 trust dedicated to ECTC faculty for the success of students. The Trust was executed in 2007 after the passing of Melva Peden in 2006 and is managed by the Central Kentucky Community Foundation. Kennard's motivation in establishing this fund was to help others advance their education. He wanted to provide funds to equip the ECTC faculty with the latest skills and resources to remain relevant in the classroom, which in turn promotes student success. CKCF is proud to carry out the desire of the Pedens and foster continuing education for the faculty and staff at ECTC.
Kennard Peden grew up in Louisville, KY. Despite growing up in the Commonwealth's largest and most urban city, his calling was to be a farmer and to cultivate the rural lands. As a young man, he received a scholarship to attend Purdue University in West Lafayette, IN, and he hoped to study agriculture and engineering. However, this dream would never be realized because the Great Depression and other responsibilities kept him home. Because of this, he wanted to ensure others had the opportunity to attend college. He began a lifetime of service as a community leader so others may pursue their educational goals.
Kennard is a founding director of North Central Education Foundation. The first job of NCEF was to create a local college to educate the people of the Hardin County region. NCEF bought 227 acres in Elizabethtown, KY, and deeded 55 acres to the University of Kentucky system to create Elizabethtown Community College (now Elizabethtown Community & Technical College.) Kennard leased the remainder of the land to farm grains and raise cattle. He later sold the farm and moved to Elizabethtown to retire. He was a member of the First Federal Savings Bank (now WesBanco) Board of Directors for decades.
Kennard was always interested in enhancing the community. He was instrumental in bringing electricity and telephone service to rural Hardin County.
Melva Peden was a dedicated homemaker. She and Kennard were partners in everything, including farming. She was always at his side.
Past Peden Fund Grant Recipients
Year
Faculty Member Recipient / Project
2016

Joseph Galloway- ECTC Choristers KY All-Collegiate Choir
Jack Johnson- Solidwork's World 2016 Conference
Jim Murley- Independent Study of Italian Renaissance Art
Kevin Parrett- Phi Theta Kappa International Convention
Rachel Ray- National Council Education for Ceramic Arts Conference
Paul Sturgeon- STEM Scholarship
Paul Sturgeon/ LEAF-STEM Workgroup
Tiffany McFalls-Smith; Jennifer Yates;
Cindy Dixon/ Gross Anatomy for Teacher Education (GATE) Training Program
Jack Johnson/ Autodesk Educators Summit
Navin Madras/ Phi Theta Kappa Honors Institute
Martha Wolfe/ Continuation of the KCTCS Summer Biology Workshop
Kevin Parrett/ AACU Annual Conference

2017

Jim Murley, World Art @the Speed
Mary Rigney, et al, Trip to National Underground Railroad Freedom Center
Kevin Parrett, Phi Theta Kappa International Convention
Jill Erwin, 2017 Conference on College Composition and Communication
Joseph Galloway, KY All-Collegiate Choir
Rachel Ray, Study Abroad Program Research Trip to Malawi
Dr. John Waldron, North American Dendroecological Fieldweek

2018

Tiffany McFalls-Smith- Gross Anatomy for Teacher Education
Jack Johnson- Autodesk University Conference
FYE Student Club (Sharon Saquay)- FYE Tutoring component
Kevin Parrett- Generation Study Abroad: Cuba

2019

Gary Stearns, Rachel Ray, Jim Murley- Pathenon Field Trip
Kevin Parrett, Navin Madras- Phi Theta Kappa Annual Convention
Brent Doty- Solidworks World Conference
Joe Galloway- All-Collegiate Choir
Kevin Parrett- CCID Conference
Application Information and Requirements
Applications for Spring 2023 awards are due by October 19, 2022.
Applicants must agree to:
Apply the funds only to the specific purpose described in their application.
Provide a detailed budget of how the funds will be spent on the project/activity to achieve the purpose for which they were requested.
Faculty member(s) must teach at ECTC for at least 12 months after completing the project/activity for which the funds were awarded, or said funds must be repaid to the Peden Trust by the faculty member.
Failure to comply with any of the application criteria may jeopardize any future requests by the applicant.
Faculty receiving funds will be expected to provide a written report and share a presentation during a professional development activity for faculty and staff.
Contact Information
Dan Lloyd, Chair, Peden Fund Committee. 270-706-8551, dan.lloyd@kctcs.edu.
Tina Love, Senior Administrative Assistant to the Provost/CAO. 270-706-8405, klove0022@kctcs.edu.
Dr. Megan Stith, Chief Advancement Officer. 270-706-8721, megan.stith@kctcs.edu.