University Center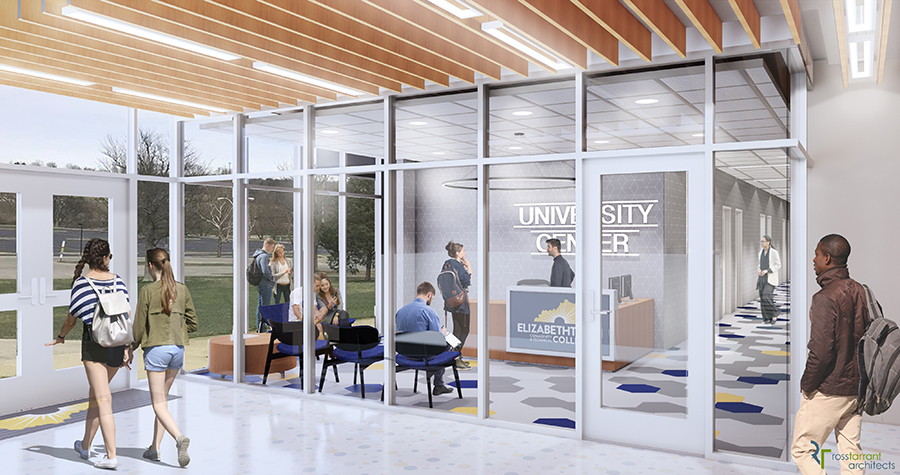 Thanks to the generous support of our community, the vision for a University Center at Elizabethtown Community and Technical College is closer than ever to becoming a reality! The University Center is a consortium of postsecondary partners that provide high-demand bachelor's and master's degree programs to the Central Kentucky region. These programs complement ECTC degree options, allowing students to complete their associate degree through ECTC and transfer to a University Center partner institution to complete their bachelor's degree.
A renovation of the Student Center will provide a hub for ECTC transfer students and house University Center partners, with services planned to begin in 2023.
"When I learned of the University Center and
understood the benefit to our Region, I
immediately knew the importance of this effort.
Education is so critical to our communities'
overall success." – Marilyn Ford, WesBanco City
President, Heartland Region/Sr Retail Officer
University Center partners and Programs
We are proud to announce new partnerships that will provide a local pathway to bachelor's degrees that align with in-demand career fields. ECTC University Center partner institutions and programs include:
Campbellsville University is offering a Bachelor's Degree in Early Childhood Education

Including Early Childhood Education with Area of Emphasis in Montessori Teacher Education and Interdisciplinary Early Childhood Education with Area of Emphasis in Montessori Teacher Education

Lindsey Wilson College will offer a bachelor's degree in business administration with concentrations in accounting and human resource management and a bachelor's degree in human services/counseling.
All programs offered at the Elizabethtown campus of longtime ECTC partner Western Kentucky University now will be offered as part of the University Center, including:

College of Education and Behavioral Sciences

Elementary Education, BS (#527)
Interdisciplinary Studies, BIS (#558)
Middle Grades Mathematics, BS (#730)
Middle Level Education Social Studies/Language Arts, BS (#5001)
Psychology, AB (#760)
Organizational Leadership, BS (#545)
Organizational Leadership, CER (#1721)
Special Education/Elementary Education, BS (#5003)

Gordon Ford College of Business
College of Health and Human Services

Health Sciences, BS (#564)
Public Health, BS (#521)
Social Work, BSW (#594)

Potter College of Arts & Letters

Criminology, AB (#627)
Professional Legal Studies, BA (#6000, previously called Paralegal Studies #5002)
Public Administration, MPA (#051)
Sociology, AB (#775)

Ogden College of Science and Engineering

Engineering Technology Management, BS (#5007)
For more information about degree programs offered through the University Center, please contact Dr. Telly Sellars at 270-706-8406 or telly.sellars@kctcs.edu
Frequently Asked Questions
How will the University Center benefit students and employers? How will classes be offered? What services will the University Center provide? Learn more about the innovative University Center collaboration coming to Elizabethtown Community and Technical College by visiting our Frequently Asked Questions page.
BETTER Lives for a Better Community