CDL Program
Drive the Big Rigs!
Enrolling Students Now
New classes are scheduled to begin on January 2 (Class for Haydon Materials of 5), February 6, March 13, April 17, May 22, and June 26. Contact Trish Smallwood for more information.
All Entry Requirements listed below, including DOT physical exam and required documentation, are required at the beginning of class. Payment Plans are available.
Our friendly, knowledgeable staff is standing by to answer any question you may have, to help you register for class, and to help you enroll in a Payment Plan.
Call 270/706.8645 for more information.
Program Information
Designed for individuals with little or no commercial driving experience, the program includes everything you will need. The benefits include:
Department of Transportation rules and regulations
Log books
Map reading assistance
Trip planning guidelines
Complete vehicle training will prepare you for an entry-level position in the trucking industry. A certificate is awarded to students who complete the course. The program can be completed in four weeks by attending full-time, Monday through Thursday from 8:00 AM to 7:00 PM.
Students may register at any time; however, class size is limited. Enrollments are accepted on a first-come, first-served basis. New classes start each month. Training is scheduled around holidays and interruptions caused by weather or other unforeseen circumstances.
Classroom Activities, 40 hours:
Orientation
CDL permit study
Endorsement study
Job procurement
Log book and hours of service
Map reading and trip planning
DOT regulations
Hazard perception
Night operation
Extreme driving conditions
Railroad crossing safety
Accident reports
Yard and Road Skills, 120 hours:
Pre-trip inspection
Couple - Uncouple
Straight backing
45 degree backing
90 degree backing
Parallel parking
Blind side backing
Shifting
Double clutching
Turns
Hazard perception
Uphill - Downhill
Ramps
Lane changes
Space management
Class A skills test
A high school diploma or GED is not required, however you must:
Be able to read and write the English language
Be over 21 years of age
Be able to meet the Federal DOT physical requirements - Completed Physical and drug test prior to enrollment
Have a valid driver's license at the time of registration
Have a birth certificate at the time of registration
** If needed, request a birth certificate from the Kentucky Cabinet for Health and Family Services.
You may be accepted into the program if you are 18 and over, but limited job placement assistance is available if you are under the age of 21. It is recommended that you obtain a copy of your Motor Vehicle Report from the Circuit Court Clerk's Office prior to starting the program.
160 Hour Tractor/Trailer Driver Training
$4,500.00
Payment Methods:
Cash
Check
Master Card, Visa, American Express or Discover
Veterans Administration (VA) benefits - If you feel you are eligible, contact your local VA representative.
Workforce Investment Act (WIA) - Contact your local job service office to see if you qualify.
Payment Plans Available
Scholarships Available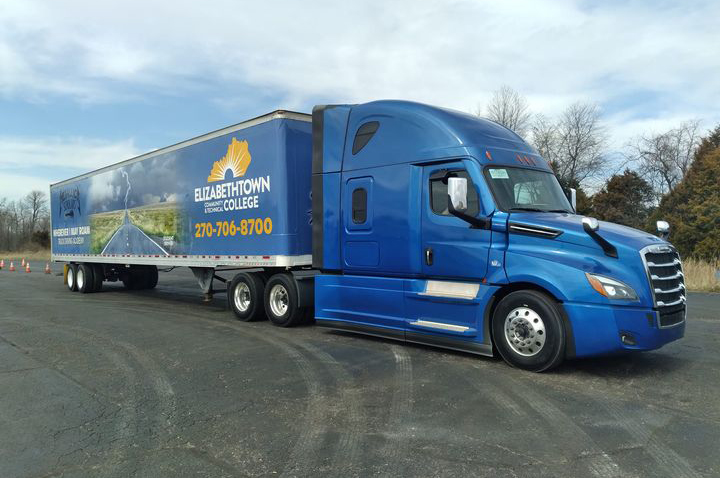 Contact Information
Michael Franklin, CDL Program Coordinator/Instructor KCTCS/Elizabethtown Community and Technical College Workforce Solutions Occupational Technical Building, Room 207 610 College Street Road Elizabethtown, KY 42701
mfranklin0070@kctcs.edu
Trish Smallwood, CDL Program Administrative Assistant

KCTCS/Elizabethtown Community and Technical College
Workforce Solutions
610 College Street Road
Elizabethtown, KY 42701
270/706.8645 or 270/706.8700
psmallwood0011@kctcs.edu