Online/Distance Learners
LEARN ON YOUR TERMS
Take classes anytime, anywhere. As a distance learner at Elizabethtown Community and Technical College (ECTC), you'll take charge of your education and create a path to a better future.
Distance learning at ECTC allows you to learn at times and places that are most convenient for you. It's a great choice if work, family or other commitments prevent you from attending classes on campus.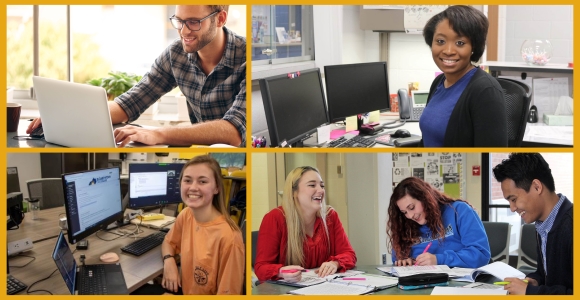 How It Works
As a distance learner, you'll communicate with faculty and other students via email or discussion groups, take online or proctored tests, and submit your assignments via email. You'll need to have:
A computer with Internet access
An email account
Familiarity with basic word processing and email programs, including how to send email with attachments
Online Program Models
Your future starts now! Explore KCTCS Online programs! We offer distance learning through the following programs.
Get an Online Degree from ECTC
When you're an ECTC online student, you're making the journey to a great new career on your own. Our committed and experienced instructors are here to ensure your success in a variety of challenging and rewarding online academic programs. Whether your goal is to pursue one of our cutting-edge, career-focused programs or choose a degree plan transferable to a four-year college, ECTC is a great place to start!
Interested? Take a look at what online credentials and programs YOU can earn from ECTC without ever coming to campus!
How to Apply
Applying to distance learning programs at ECTC is easy, and we're here to help. Follow these quick steps:
Finally, fire up your computer and get ready to launch an exciting new future. You've got this!
If you have questions along the way, give us a call or send us an email. We look forward to helping you reach your goals!